Zache Named Head Softball Coach
Contact: Sarah Miesle
Sports Information Director
Saint Mary's College
Notre Dame, IN 46556
(574) 284-5290
September 10, 2013 (Notre Dame, Ind.)—The Saint Mary's College Department of Athletics has announced that Kelli Zache will serve as the College's head softball coach.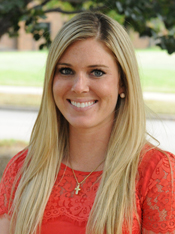 A native of Niles, Michigan, Zache was a two-time first team all-state selection at Brandywine High School. She went on to play three seasons at Western Michigan University before finishing her career at Bethel College. While at Western Michigan, she threw a one-hit shutout win against Virginia.
In her final season at Bethel, she was a three-time Mid-Central Conference Pitcher of the Week and was a first team all-conference selection. She posted a 22-5 record in the circle with a 1.77 ERA in 166.1 innings pitched. A first team all-region pitcher, she was named to the NCCAA All-Tournament Team at nationals while also earning NCCAA All-American honors.
Zache has gained coaching experience at the University of Notre Dame's summer camps and served as an assistant coach at both Bethel College and St. Joseph High School. She was also an ASA certified umpire from 2008 to 2012.
"I would like to thank Saint Mary's and Julie for this wonderful opportunity," said Zache. "Softball has always been a huge part of my life and I am so fortunate to now be part of the Saint Mary's coaching staff. I'm excited to have our non-traditional season underway and I look forward to the upcoming season. We have a young team but I am confident with hard work and determination, we will see much success this spring."
Zache is a 2011 graduate of Bethel College where she earned bachelor's degree in psychology.
She started her position on September 5.
About Saint Mary's College: Saint Mary's College, Notre Dame, Ind., is a four-year, Catholic, residential, women's liberal arts college offering five bachelor's degrees and more than 30 major areas of study, such as business, nursing, art, chemistry, and social work. The College's single-gender environment has been proven, in study after study, to foster confidence, ethical leadership, and strong academic success. Saint Mary's College ranks 76 among the top 100 Best National Liberal Arts Colleges for 2014 published by U.S. News. Founded in 1844 by the Sisters of the Holy Cross, Saint Mary's College's mission is to educate women and prepare them for postgraduate success whether it's a first job, graduate school, or postgraduate service.