Sandra Schneiders' Book
That was Then...This is Now: The Past, Present and Future of Women Religious in the United States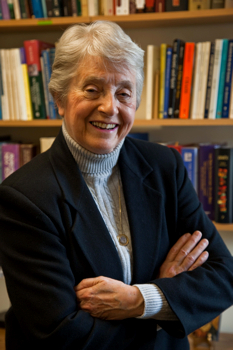 In the fall of 2011, Sandra Schneiders came to Saint Mary's College to give the lecture, The Future of Religious Life.  Schneiders is a leading authority on Catholic women's religious life, a frequent contributor to Catholic periodicals, and a renowned author.  She is professor emerita of New Testament Studies and Christian Spirituality at the Jesuit School of Theology of Santa Clara University.
The Center for Spirituality is pleased to offer Schneiders' lecture as a monograph.  Her lecture's new title That was Then...This is Now: The Past, Present and Future of Women Religious in the United States is in print and can be purchased for $3 per copy.  (The $3 covers the printing and postage fees for mailings within the United States.  If you are not from the U.S., please contact CFS to discuss postage costs.)  
Click here to order the monograph and for more information.
Questions?  Contact Kathy Guthrie at (574) 284-4636 or kguthrie@saintmarys.edu.