Office for Civic and Social Engagement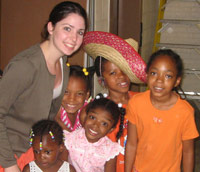 Volunteering with the OCSE
"Be the change you wish to see in the world."   -Gandhi
The Office for Civic and Social Engagement (OCSE) is a unique resource center, which exists for the benefit of the Saint Mary's College students, faculty, and staff.
We provide information on:
community service
experiential learning opportunites
one-time volunteer events
special speakers
events relating to community engagement
The Office for Civic and Social Engagement operates within the Division for Mission of Saint Mary's College, and is closely associated with Campus Ministry and the Center for Spirituality.
Our College mission calls us to promote social responsibility and to acquire the ability to make socially responsible choices about the future.
Mission
To inform the college community of service and experiential learning opportunities in the local Michiana area; To encourage students, faculty, and staff to give of themselves and their gifts through programs in volunteer service, community engagement and service-learning; and to offer a place for members of the college community to reflect on and discuss their experiences of engagement and service. Through these activities the Office for Civic and Social Engagement upholds the college mission to promote a life of social responsibility while also enlivening the hearts of participants and fostering justice and compassion.
A Message from the Director
Welcome to the Office for Civic and Social Engagement!  The OCSE is a great place to learn about volunteer and experiential learning opportunities in the local South Bend area and many other communities. We have a staff of wonderful students who are willing to help you with whatever it is you are looking for. In the upcoming academic year the OCSE will be moving in some new directions. We will be expanding our work with experiential learning such as offering faculty development programs. We hope to increase our core of volunteers at the college so that we can be a vital source of additional assistance for Michiana-area agencies. We will also be increasing our partnerships, making new connections with some agencies and strengthening old ones. I invite you to be a part of the active engagement that the OCSE offers. Browse through the website or stop in and visit us at 220 Student Center. You are most welcome!
A Brief History of the Office
In 1991 a Saint Mary's student by the name of Sharon Zint conceived the idea of an office of volunteer service after hearing a speech by Sister Joan Chittister. Sister Joan was the commencement speaker at the 1991 graduation and spoke of the power of hope to bring change into people's lives. Her focus on the nature and power of hope came from Saint Mary's Motto, Spes Unica, the only hope. Zint took her inspiration to heart and beginning in the fall of her senior year, drafted a proposal for the creation of the Spes Unica Resource and Volunteer Center. As a result, S.U.R.V. was born. The SURV Center functioned primarily as a clearing house for information on needs in the wider South Bend community and how students could become involved.
The Center was staffed completely by students. As time passed the program grew, finally bringing in a full time Director in 1997. Sister Linda Kors, CSC, helped SURV to expand its reach, taking students on work trips to Appalachia every fall and partnering with the Center for Spirituality on pilgrimages to Brazil, El Salvador, and Mexico. Resources available at the SURV Center continued to grow, from service-learning texts available to faculty, to brochures explaining post-graduation service such as the Peace Corps.
In the summer of 2004 a name change was proposed for the Center, one that would encompass new directions and the changes on the horizon. Thus the Office for Civic and Social Engagement was created. The OCSE has remained true to Zint's simple belief that as a Catholic college, "We have an obligation to do community service for others."