The Consecrated Life Seminar
Seminar with Sandra Schneiders, IHM
June 14-20, 2015
Pope Francis has designated 2015 the Year of Consecrated Life.
"A radical approach is required of all Christians," the Pope stated in making this announcement, "but religious persons are called upon to follow the Lord in a special way: They are men and women who can awaken the world."
Cardinal Joao Braz de Aviz, Prefect of the Congregation for Institutes of Consecrated Life and Societies of Apostolic LIfe, noted that 2015 is also the 50th anniversary of the conclusion of the Second Vatican Council. "We believe that the Council has been a breath of the Spirit not only for the whole church," he stated, "but perhaps especially, for the consecrated life." The Prefect designated three objectives for the Year of Consecrated Life:
grateful remembrance of the recent past
embracing the future with hope
living the present with passion
Women and men religious, oblates and associate members of religious orders, and women and men in discernment about consecrated life are invited to explore these objectives with Sandra M. Schneiders, IHM in the context of a week of prayer at Saint Mary's College.
A special feature of this seminar is the opportunity for persons discerning a call to consecrated life to request a mentor for the duration of the seminar. Anyone who desires will be paired with a professed member of a religious order with whom she or he can share prayer, meals, and conversation throughout the week.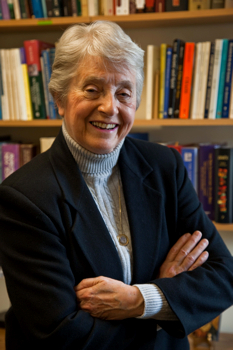 Professor Schneiders received her B.A. from Marygrove College, her M.A. from the University of Detroit, her Licentiate of Sacred Theology from the Institut Catholique de Paris, and her Doctorate of Sacred Theology from the Pontifical Gregorian University in Rome. After a distinguished teaching career, she is now Professor Emerita of New Testament Studies and Christian Spiritualty at the Jesuit School of Theology in Berkeley, California. She is the author of numerous books including a major trilogy on religious life: Finding the Treasure: Locating Catholic Religious Life in a New Ecclesial and Cultural Context (2000); Selling All: Commitment, Consecrated Celibacy, and Community in Catholic Religious Life (2001); and Buying the Field: Catholic Religious Life in Mission to the World (2013). Her most recent work Jesus Risen in Our Midst: Essays on the Resurrection of Jesus in the Fourth Gospel (2014).
SEMINAR BROCHURE (click here)
SCHEDULE
Detailed schedule of the week
Note that the schedule may be subject to change.
COST
Cost per person for the week is $580. The cost breakdown is:
$40 Non-refundable Registration Fee ($65 for registrations received after April 1, 2015)
$180 Board (Sunday dinner through Saturday breakfast)
$160 Single room * A limited number of air conditioned apartments are available for an additional $75 for the week.
$200 Tuition (There is a 10% tuition discount for groups of 3 or more traveling together from the same community within a religious congregation.)
REGISTRATION
Registration is closed. The seminar is full.
QUESTIONS
Please contact Kathy Guthrie, kguthrie@saintmarys.edu, or call (574) 284-4636.