Catholic Religious Life in a New Millennium
Seminar with Sandra Schneiders, IHM
July 13-19, 2014
"The Reign of God," Jesus said, "is like a treasure hidden in a field which a person found . . . and out of joy sold all she had to buy that field" (Matt 13:44). What is this treasure that inspires some to sell all? What does it mean to give one's life completely to the service of the reign of God in the context of a new millennium marked by social, cultural, ecological and economic crises? Women religious, men religious, oblates and associate members of religious orders, women and men in discernment about religious life, and all who wish to deepen their religious commitment are invited to explore these and other fundamental questions with Sandra M. Schneiders, IHM in the context of a week of prayer at Saint Mary's College, Notre Dame, Indiana.
A special feature of this seminar is the opportunity for persons considering profession to religious life to request a mentor for the duration of the seminar. If they so desire, they will be paired with a professed member of a religious order with whom they can share prayer, meals, and conversation throughout the week.
SANDRA SCHNEIDERS, IHM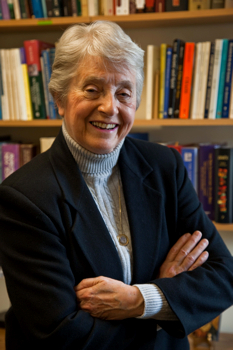 Professor Schneiders received her B.A. from Marygrove College, her M.A. from the University of Detroit, her Licentiate of Sacred Theology from the Institut Catholique de Paris, and her Doctorate of Sacred Theology from the Pontifical Gregorian University in Rome. After a distinguished teaching career, she is now Professor Emerita of New Testament Studies and Christian Spiritualty at the Jesuit School of Theology in Berkeley, California. She is the author of numerous books including a major trilogy on religious life in a new millennium: Selling All: Commitment, Consecrated Celibacy, and Community in Catholic Religious Life (2001); Finding the Treasure: Locating Catholic Religious Life in a New Ecclesial and Cultural Context (2000); and Buying the Field: Catholic Religious Life in Mission to the World (2013). Forthcoming in 2014 is the new book Jesus Risen in Our Midst: Essays on the Resurrection of Jesus in the Fourth Gospel.
SCHEDULE
For a description of the seminar schedule, please click here. Note that this schedule may be subject to change as more details are finalized.
COST
Cost per person for the week is $580.
The cost breakdown is:
$40 Non-refundable Registration Fee ($65 for registrations received after April 1, 2014)
$180 Board (Sunday dinner through Saturday breakfast)
$160 Single room
* A limited number of air conditioned apartments are available for an additional $75 for the week.
$200 Tuition (There is a 10% tuition discount for groups of 3 or more from the same religious community.)
REGISTRATION
Click here for the registration brochure. To receive a hard copy, contact Kathy Guthrie (contact information is below).
QUESTIONS
Please contact Kathy Guthrie, kguthrie@saintmarys.edu, or call (574) 284-4636 with questions.