Sit back, relax, and enjoy the view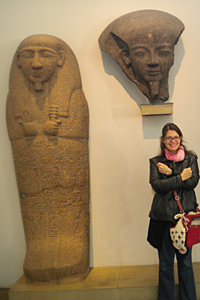 Cristina enjoyed exploring Egyptian
artifacts at the British Museum during
her sophomore year.
When Cristina Bueno graduates in 2013, she'll hold a degree in classical cultures and the archaeology of death. "My advisors and I came up with that name," she says. "It describes exactly what I'm studying." She pauses. "It's not as morbid as it sounds, I promise."
The title of her major reflects what specifically interests her within the field of anthropology. "My interest in classical cultures grew during my time abroad in Rome where many of my classes focused on the history, art, and archaeology of classical Rome," she says. "I'm fascinated with various cultures' views on death, dying, death rituals, and the afterlife. It's interesting to see how death is viewed in a society and how that affects the lives of the people within that society."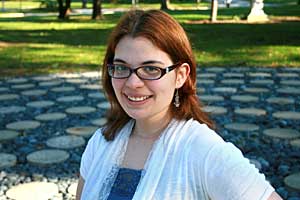 One of Cristina's favorite spots on campus is a labyrinth
that encourages meditation, reflexion, and relaxation.
If Cristina's field of study sounds unique, it is. She's one of a select group of Saint Mary's students who create their own program of study through the College's student-designed major. The students and their advisors put together a challenging interdisciplinary course of study tailored to suit the students' needs and interests. In Cristina's case, she and her advisors figured out a way for her to focus on anthropology, a lifelong love.
Though her major and the College ended up being a perfect fit for Cristina, she could have easily missed the opportunity to become a Belle. Cristina, who's from Woodridge, Illinois, hadn't heard of Saint Mary's until she received a brochure during her senior year of high school. The pictures piqued her interest. "I wanted a smaller campus, and I liked the atmosphere of this campus— it looked like a place where students could enjoy being outside. It was not all concrete and buildings," she says.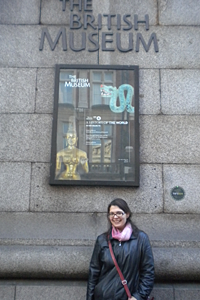 Cristina outside the British Museum.
After her acceptance, Cristina met with an advisor during summer orientation. "I was considering education, so I met with an education professor," she says. "I asked her about the student-designed major. Even though it was not in her department, she was very supportive and encouraged me to pursue it." Following the advisor's advice, Cristina joined the Anthropology Club and met students who were student-designed majors. She became convinced the program was right for her.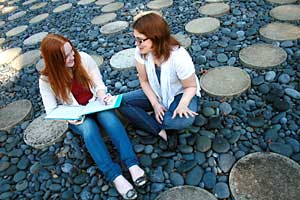 Cristina chats with her friend Michelle Rozman '12.
Now a junior, Cristina is the vice president of the Anthropology Club. She also serves as president of Straight and Gay Alliance (SAGA).
Even with her rigorous schedule, Cristina finds opportunities to sit back, relax, and enjoy the view. "I never stress out about homework. My friends and I form study groups. We meet in study rooms and use the white board. It's almost like a class."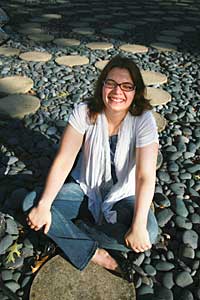 Cristina's ultimate career goal is to become a curator for the British Museum, which she visited during her semester in Rome. She wandered alone for hours, long after her friends left for a shopping expedition. "We made plans to meet at Starbucks a few hours later—they knew I would spend a ridiculous amount of time in the museum. Of course, I was late meeting them," she says with a laugh.
As a future curator, she hopes to instill her passion into children. "I want to design kid-friendly exhibits and tours," she says. "My parents took me to museums when I was little, and I loved it. I want to give other kids the same positive experience."
—Michelle Rozman '12