Driven by mystery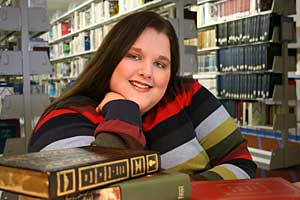 "The rain beat down intensely on her shoulders. … The weight of the rain in her drenched clothes took its toll. As she stood by the bridge's concrete side railing, Morgan began contemplating. What does it really mean to feel alive?"
Great question. And one that's especially intriguing posed by Morgan Reigler, who is not alive. Morgan is a fictional character created by Jacqueline Nichole, a Saint Mary's senior more commonly known as Jackie Miller '12.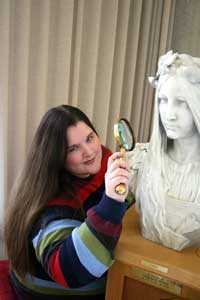 Jackie, an English writing and literature double major, is focused on fiction, writing two untitled mystery novels at the same time. Morgan Reigler—a talented but disturbed psychology student—is the protagonist in a novel that also serves as Jackie's senior comprehensive project, a demanding final research project required of all Saint Mary's seniors. To finish, Jackie is cranking out 5,000 words a week.
She didn't have to. "My writing professor tried to encourage novellas or short stories. But I insisted on a novel," she says. This is on top of 21 credit hours in classes, an internship at a budding video game company, and launching a radio show, O, Frabjous Day, with two friends from the University of Notre Dame.
Is she crazy? "I'm weird for sure," Jackie says. "I think of things differently. I muse. I ponder. I spend a lot of time in characters' heads and poke around in there. I like to look at not-average things in not-average ways."
But let's get back to Morgan's question: What does it really mean to feel alive?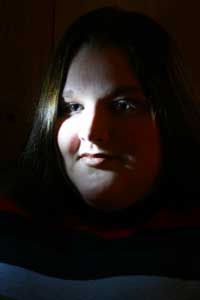 For Jackie, these days it means coming home from school or work, hanging out with her mom for a while, and then going up to her bedroom to write. "I sit on my bed with my laptop desk that my dad made me, and I play Ludovico Einaudi," a pianist whose music is perfect for someone who doesn't like lyrics when she writes. Jackie's dogs Winnie and Bilbo Baggins lie beside her as she works. "I write until I pass out," Jackie says.
Jackie hopes to get published someday, though she doesn't want to be famous and sacrifice her privacy. So what would success look like? "My parents have given me so much. If I could pay off our house and cars and retire my dad—he has bad knees—I'd be a success. And being happy. That's success."