Engineering success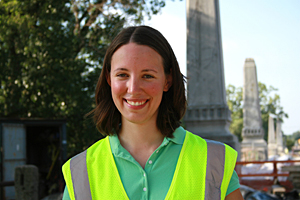 Like many young girls, Jenny Hellyer and her little sister played with Barbie dolls. But Jenny didn't fret over where Barbie would host her next pool party. While her sister dreamed about the doll's next adventure, Jenny was building Barbie a place to live.
"I actually built us a Barbie Dream House with a working elevator I made out of old shelves," says Jenny. "I had more fun building us things to play with than actually playing. My sister thought it was cool because then she could play with it."
This is what a budding engineer looks like.
Jenny is a graduate of the prestigious Dual Degree Engineering Program between Saint Mary's College and the University of Notre Dame. In May 2010, she earned a bachelor's degree in mathematics from Saint Mary's, and in 2011 she received her bachelor's in civil engineering from Notre Dame. Two degrees gave this strong student an advantage.
"Having an advanced math degree allows Jenny to have a richer understanding of design concepts, theories, and structural design," notes Susan Al Abbas, an engineer who supervised Jenny during a summer internship with the company R. W. Armstrong in South Bend, Indiana. Jenny helped out on a bridge rehabilitation project.
"With Jenny's strong leadership skills, she could end up being a program manager at some point in her life," Al Abbas says. "Successful program managers have a strong sense of business acumen—they have the ability to understand and manipulate complicated budgets, schedules and financial theories. I think her math degree will help her be a better manager."
Jenny's work at her internship impressed R. W. Armstrong enough that they hired her. Jenny now works for the company as a project engineer. "I work on the structures team, meaning I help mostly on bridge design projects," she says. She also helps on road projects.
Jenny says her Saint Mary's background will stay with her wherever she goes.
"Saint Mary's pulls you out of your shell. I was a really shy kid in high school," she says. "Now I'm much more outgoing, much more confident in myself. I am completely grateful for the skills and confidence Saint Mary's has given me."