From China to Saint Mary's to Harvard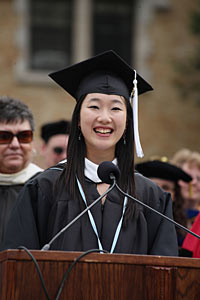 Dancer, linguist, scholar, missionary: Jingqiu Guan's talents, academic successes, and humanitarian contributions seem endless.
A 2011 graduate of Saint Mary's and native of Chengdu, China, Jingqiu earned degrees in French and economics. Currently, she is a Harvard University graduate student studying international education policy. In choosing Harvard, she turned down graduate programs at Stanford University, the University of Notre Dame, and an exclusive dance program at the University of Iowa.
"Jingqiu is a once-in-a-lifetime student," says economics Associate Professor Richard Measell, citing her talents, personal qualities, and academic achievements.
Jingqiu says Saint Mary's helped open up the world to her. "The best part of being a Saint Mary's student is that I've gotten a chance to discover what I like," she says. "I had the opportunity to experience different things because there are so many interesting things happening on campus. If you really want to try something, you always have the chance to do it."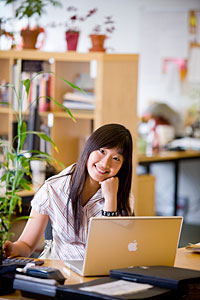 Already a pianist, Jingqiu began studying ballet at Saint Mary's and became passionate about it. During her sophomore year, she secured an arts management internship with the Mark Morris Dance Group in New York City. And she worked hard on her dancing, eventually becoming skilled enough for acceptance into the Iowa graduate dance program.
In connection with her economics major, Jingqiu worked with an economics professor during the 2008 presidential campaign to compare the economic plans of the candidates at a college forum. And she initiated the Model United Nations (UN) program at Saint Mary's. Through Model UN, she gave a presentation on the economy and trade of Costa Rica at a conference at the University of California, Berkeley.
Jingqiu left Saint Mary's with two outstanding honors. During her junior year, she was awarded the Saint Catherine Medal that recognizes high standards of personal excellence and scholarship and contribution to the College community. On the day she graduated, Jingqiu received the Lumen Christi Award, the highest student honor, which recognizes outstanding leadership, excellence, and loyalty to Saint Mary's.
A mission trip to a village in Tamil Nadu, the poorest state in India, helped Jingqiu decide what she wanted to do with her life. As she taught English to the children, she felt God telling her to use all her talents, not just one. With this in mind, her ultimate goal is to advance women's education both in China and globally.