Golfer and scholar from a family of Belles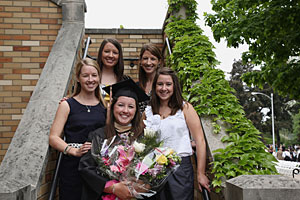 The Boyce sisters are, clockwise from top left, Bridget
Boyce Schreiber '06, Katie Boyce '05, Annie Boyce '10,
Mary Kate Boyce '11, and Eileen Boyce '07.

Mary Kate Boyce was introduced to Saint Mary's College by her four older sisters—Annie, Eileen, Bridget, and Katie—who all graduated from the College. So when it was time for her to choose a college, she followed their path from Oak Lawn, Illinois, to Saint Mary's.
"I chose Saint Mary's because I really could not imagine myself anywhere else," says Mary Kate, who graduated in 2011 with a degree in business administration with a marketing concentration. "Each of my sisters loved Saint Mary's for so many different reasons. I was confident that I could find my own place."
She did find her own place, and excelled in her studies and on the golf team.
Academically, Mary Kate maintained a 4.0 grade point average in her marketing classes. The Department of Business and Economics honored her with the Outstanding Achievement in Marketing Award her senior year. "Mary Kate has always shown a determination and commitment to complete whatever task or difficulty is placed in front of her," wrote Joyce Hicks, associate professor of business and economics. "She constantly challenges herself and those around her to do more and do it better. Aside from being an excellent marketing student, she is simply an all-around nice person, and I expect we will hear about her successes in future years."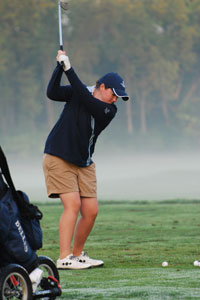 Mary Kate Boyce

Mary Kate is already headed in the right direction. Upon graduation, she began her professional life as a financial analyst with Lakeshore Food Advisors, LLC, of Chicago.
As a golfer and co-captain for the Belles team, Mary Kate received a slew of awards and honors: Most Valuable Golfer by the Michigan Intercollegiate Athletic Association (MIAA) golf coaches, 2010 season medalist and All-MIAA First Team, and the MIAA 2011 Sportsmanship Award.
The last honor was no surprise to Julie Schroeder-Biek, director of athletics for Saint Mary's College. "I am incredibly proud of how Mary Kate represents Saint Mary's athletics and academics," says Schroeder-Biek. "She has demonstrated not only incredible skill on the course, but she was also one of the most respected golfers in our league for her sportsmanship."
Continuing the Boyce sisters' Saint Mary's tradition was the right move for Mary Kate. With her professional skills, positive attitude, and support from her immediate family as well as her Saint Mary's family, she is sure to continue on her bright path.