Córdoba, Argentina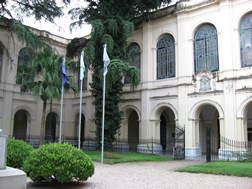 Córdoba is recognized as a center for arts and learning in Argentina with its many universities, theaters, and museums. "From its vast deserts and snowy glaciers, towering mountain peaks and steamy rainforests, to its rural vineyards, bustling urban centers and everything in between, Argentina's regional diversity is alive and waiting to be discovered" (Spanish Studies Abroad-Córdoba). In 2006, the city was awarded the title of Cultural Capital of the Americas. With this being said, you will never be out of things to do or see in Córdoba. Make a weekend trip hiking, exploring, or swimming in the mountains, lakes, and rivers nearby, share yerba mate, a traditional herbal tea, in one of the many parks, or eat the infamous Argentine meat at family barbeques known as asados. This city is filled with people welcoming you to learn and become a part of their community.
Location
Argentina's second largest city and the region's early capital, Córdoba is a bustling educational and commercial center set at the foothills of the Sierra Chica mountain range in northern Argentina. Saint Mary's College has an affiliation with Spanish Studies Abroad, which offers true cultural immersion experience in Córdoba.
Program of Study
The Córdoba Program offers three enrollment options: summer, semester, and academic year. The program offers courses taught in Spanish by Spanish professors. Students will engage in an exceptional opportunity for semester study at the distinguished Universidad Nacional de Córdoba (UNC), which is the oldest university in the country and was founded in 1913 by the Jesuit Order. This is just one of the six universities found in the city of Cordoba. The semester program offers students a variety of courses within a broad spectrum of disciplines. Students enroll in 1-2 integrated courses with Argentine students at UNC and 2-3 courses designed for international students. Current Saint Mary's College students may find Sophia Program information HERE. The summer term consists of a one-month intensive language and culture session at Universidad Nacional de Córdoba (UNC). In addition to 60 hours of classroom instruction, the summer program includes a home stay, cultural excursions and a three-day trip to Buenos Aires. The Cordoba program also includes speaking partners, internships, volunteer opportunities, and access to the vast amount of campus events and activities.
Housing
Students live in private homes with host families, who have agreed to host students and abide by Center rules and policies. Host families provide meals, laundry and the cleaning of rooms.
Transportation, Cost, and Financial Aid
Students pay Saint Mary's College tuition, room & board, and a study abroad fee. Students provide their own round-trip transportation to Córdoba. However, the Center can help students participate in group discount flights to Argentina. Financial aid from Saint Mary's, scholarships, and grants can be applied to the semester or year in Argentina, but not to the summer program. To learn more about this program and associated costs, click on the Application Information button and navigate to the program specific budget sheet.
Insurance
Saint Mary's College provides international health insurance to all students abroad through GeoBlue insurance company. Students on any Saint Mary's study abroad program are automatically enrolled and the fee is included in the cost of the program.
Eligibility and Requirements
Saint Mary's students wishing to study in Córdoba must have completed one semester of intermediate Spanish with a minimum of a 3.0 (B) average in Spanish courses, or be a heritage speaker, and have an overall GPA of 3.0.
For more information, contact:
Jennifer Zachman, Ph.D.
Associate Professor of Spanish and Chair,
Department of Modern Languages & Cultures
Faculty Coordinator of Study Abroad Programs
jzachman@saintmarys.edu