Education Studies in Ireland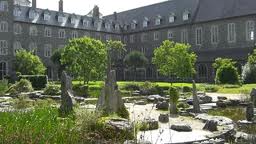 In 1977, Saint Mary's instituted a study abroad program at Maynooth University, 14 miles outside of Dublin. Since that time, many students have spent a semester or a full year of study in Ireland, fulfilling general education requirements while exploring the country's rich cultural traditions. Beginning in 2012, students in the Department of Education have a unique opportunity to study the educational system in Ireland first hand through the same partnership. A one-week experience, the "Education Studies in Ireland" program will offer students a glimpse of classrooms in primary or secondary schools, as well as other learning experiences that will enhance their cultural competence as future educators.
Program of Study
The program is designed for sophomore elementary education majors and secondary education minors. During the week, students will visit schools at the respective level, tour campus and visit classes in the Education Department at MU and/or Froebel Department of Primary and Early Childhood Education, and hear speakers on the educational system in Ireland. Through readings and these learning experiences, students fulfill requirements of a 1-credit course, Ed 488 Practicum in Intercultural Education.
Housing
Students will most likely stay in double guest rooms in designated residence halls at Maynooth University.
Transportation and Cost
Students depart as a group from the United States with the faculty leader. Students pay a program fee that covers housing, domestic and international airfare, group travel in-country, and breakfasts. Saint Mary's College tuition for the spring semester covers the tuition for the one-credit course. Expenses that are not covered by the program fee include passport fees, supplies, laundry, some food, and personal expenditures.
Insurance
Saint Mary's College provides international health insurance to all students abroad through GeoBlue insurance company. Students on any Saint Mary's study abroad program are automatically enrolled and the fee is included in the cost of the program.
Eligibility and Requirements
Eligibility is based on a student's sophomore standing, academic record, and readiness for study and travel abroad.
For more information contact:
Nancy Turner
Professor of Education
574) 284-4486
nturner@saintmarys.edu
See More Options!