France Summer Program
Angers, France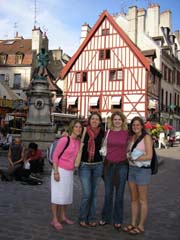 Angers lies in the heart of the Loire Valley, an hour and half from Paris by high-speed rail and an hour's drive from LeMans, the founding site of the Holy Cross Congregation. With the sixteenth largest population of France, Angers is the capital of Anjou, a famous wine producing region. The university town offers a great diversity of cultural activities: a 13th century castle, numerous museums, film festivals, theatres and music.
Program of Study
Students enroll in courses at the Université Catholique de l'Ouest (UCO) for the four week summer session in July. During this time students take an intensive language and culture course and earn 5 credits in French. The program includes several day-trip excursions in the Loire Valley.  
Housing
Students in Angers may select housing in UCO international residence halls or in homestays with local families, which come highly recommended for French language acquisition and proficiency. All homestays are located an easy transportation distance from the college. Public transportation includes a city tram and bicycles are provided to city residents. In the home students are provided with a room, all breakfasts and three dinners per week, plus access to the kitchen. For other meals a cash food allowance is provided which students may use at their discretion to eat at the university cafeteria, local restaurants, or to purchase food to cook at home.
Transportation, Cost, and Financial Aid
Students provide their own round-trip transportation to France, as well as within Europe. An international student ID card (ICIS) will make you eligible for discount rates on French trains. Eurail passes, for periods of unlimited train travel in a number of European countries, may be purchased in the U.S. prior to departure. Financial aid from Saint Mary's will not apply to the summer session.
Eligibility and Requirements
Saint Mary's students wishing to study in Angers during the summer must have a minimum 2.5 GPA as well as a B average in French at the time of application. Admission to the program is finalized through UCO. The student will need a letter of recommendation from her French professor to assess language level. It is expected that the student will be in good disciplinary standing at the College and exhibit the emotional maturity and openness to new experiences that make her a suitable representative of Saint Mary's College while abroad.
For program dates and costs, contact:
Jennifer Zachman
Associate Professor, Modern Languages
Faculty Coordinator of Study Abroad Programs
(574) 284-4173
jzachman@saintmarys.edu