Fremantle, Australia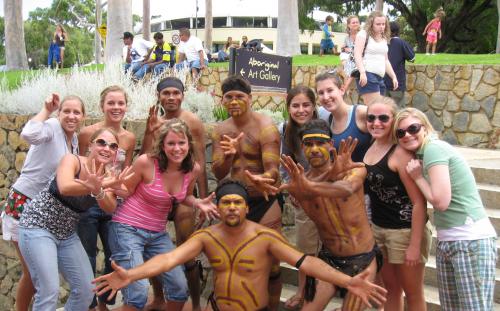 In land area, Australia is the sixth largest nation after Russia, Canada, China, the United States of America and Brazil. It has, however, a relatively small population. Australia is an independent Western democracy with a population of more than 20 million. Australia's lifestyle reflects its mainly Western origins, but it is also a multicultural society which has been enriched by over six million settlers from almost 200 nations. Two thirds of the indigenous people, Aboriginals and Torres Strait Islanders, live in towns and cities. Overseas tourists are drawn by Australia's sunshine, sandy beaches, the vast outback, rainforests, the Great Barrier Reef, unique flora and fauna, the Gold Coast of Queensland, and the attractions of the cities, Australia's friendly, multicultural society, and the safe and welcoming environment.
Program of Study
Saint Mary's College has established its first direct student exchange program at the University of Notre Dame Australia in Fremantle, Western Australia, whose object is to provide university education within a context of Catholic faith and values. Students can take courses in arts and sciences, business, education, health, nursing, and theology and philosophy, etc. Students are required to enroll in a course titled Australian History and Society (fulfills SMC History requirement) which includes a 6 day field trip to a regional part of Western Australia and the opportunity to engage with Aboriginal people on their land and in the context of their culture. Current Saint Mary's College students may find Sophia Program information HERE.
Students are offered a one-week orientation in the first week of arrival. Student will receive a Certificate of International Studies if they successfully complete five courses.
Locations
Fremantle is the home of the main campus and offers a wide array of cafes, restaurants, markets, cultural richness and beaches that are all within walking distance.
Fremantle is a port city in Western Australia, located 12 miles southwest of Perth, the state capital of Western Australia, at the mouth of the Swan River on Australia's western coast. It was the first settlement of the Swan River Colonists in 1829.
Credits/Transcript
Students directly enroll as full-time students in courses (5 courses for 15 credit hours total) that will count toward their degree requirements at Saint Mary's. Students choose from a wide range of pre-approved courses with the approval of their Saint Mary's College academic advisors.
Australia has a different grading system from the U.S. which does not have letter grades. They will be High Distinction, Distinction, Credit, Pass, and Fail determined by a percentage. This is then calculated into letter grades that will correspond with Saint Mary's letter grades. Most of the classes offered at UNDA determine students' grades from a few papers or projects and the final examination score.
Housing
Students who are chosen for this study-abroad, semester-long experience live in a residence on campus with other study-abroad students from other American universities as well as international students from a number of countries. If housing accommodations are full, Saint Mary's students could live with an Australian family. Most Australian students commute rather than stay on campus. Each resident house has a community kitchen and students will have community dinners on a regular basis.
Transportation, Cost, and Financial Aid
For traveling within Fremantle and Perth, the public train and bus system is cheap and easy to use. Most Australians also walk/bike along the beaches. Students pay Saint Mary's College tuition, room & board, and a study abroad fee. Expenses not covered include passport and visa fees, domestic and international airfare, personal travel and expenditures, and books and supplies. Most Saint Mary's financial aid and scholarships can be applied to your semester in Australia. To learn more about this program and associated costs, click the Application Information button and navigate to the program specific budget sheet.
Insurance
Saint Mary's College provides international health insurance to all students abroad through GeoBlue insurance company. Students on any Saint Mary's study abroad program are automatically enrolled and the fee is included in the cost of the program.
Eligibility and Requirements
Minimum 3.0 cumulative GPA is required at the time of application. Successful program participants are independent, learned, and self-motivated. Note that Australian professors expect advanced writing skills.
For more information, contact:
Alice Yang
Director for International Education
Also, please see the University of Notre Dame's Australia Program website
See More Study Abroad Options!