Seville, Spain
This program is currently not accepting applications. The software for study abroad is being updated. Applications will be accepted again starting January 15, 2023. If you have any questions, please contact the CWIL office at abroad@saintmarys.edu.
Seville, known for its Moorish palaces and Renaissance gardens, is a beautiful and ancient city on the banks of the Guadalquivir River. Located in the south of Spain, Seville has a temperate climate and a rich cultural life. Seville Cathedral, built in the 1400s is perhaps the most impressive Gothic cathedral in the Christian world. Students in this program will study the Spanish language and culture as a total immersion experience. They will participate in numerous cultural, social, and religious celebrations and travel widely throughout the region, enhancing the education they receive in the classroom.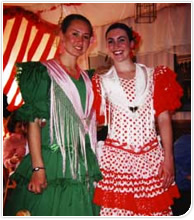 Location
The program is housed in the Spanish Studies Abroad, which has provided a learning experience for students in the historic city of Seville since 1969. The Center is housed in two connected classical Sevillian mansions close to historical and artistic monuments in the heart of the city's commercial and social center. Students attend small classes in the mansions, with their wrought iron balconies, carved wooden doors, and more than 30 rooms washed with sunlight from interior courtyards.
Click HERE for more country-specific information.
Program of Study
Students can choose either fall or spring semester, academic year, or summer session.
The program offers courses taught in Spanish by Spanish professors. Students can choose either the fall or spring semesters. The semester more appropriate for Saint Mary's students is the second (spring) semester of their sophomore year.
Students choose a minimum of 12 credits and a maximum of 15. All courses are taught in Spanish. Courses include Spanish Language (grammar, conversation and comprehension, present-day Spanish usage, composition, Spanish for business), Civilization (Spain and Latin America), Literature (courses from the Middle Ages through 20th century), and courses related to general education or other areas of specialization (history of Spanish art, history, politics and economy of Spain, sociology, anthropology, and others). Current Saint Mary's College students may find Sophia Program information HERE.
In addition to their classroom studies, students also participate in weekly study visits and cultural trips, which include the principal monuments of Seville, archeological and art museums, Roman Italica and other sites, as well as art exhibits, concerts, and evenings at the theater. During the fall semester the group visits Roman, Muslim, and Jewish monuments in Cordoba on a day-trip and Roman Merida plus Medieval Caceres on an overnight trip. During the spring semester a day trip takes the group to La Rabida, the monastery and beach where Columbus prepared and launched his first voyage of discovery. On a weekend trip students visit the great Hispano-Muslim monuments of Granada.
Housing
Students live in private homes with host families, who have agreed to host students and abide by Center rules and policies. Students are expected to take all meals at home. Laundry and the cleaning of rooms are taken care of by the host family.
Transportation, Costs, and Financial Aid
Students pay the standard Saint Mary's College tuition rate and a study abroad fee. Room and board rates will be slightly higher than if studying on the SMC campus, each program has a standard accommodation package. Students provide their own round-trip transportation to Seville. However, the Center can help students participate in group discount flights to Spain. Expenses not covered include passport and visa fees, personal travel and expenditures, and books and supplies. All students who plan to study abroad are required to pay a non-refundable deposit.
Most Saint Mary's College scholarships and financial aid can be applied to the semester or year in Seville but not to the summer program. There are a few financial aid awards from Saint Mary's College that cannot be used while studying abroad, please check with the Office of Financial Aid about your specific eligibility.
To learn more about this program and associated costs, click the Application Information button and navigate to the program specific budget sheet.
Insurance
Saint Mary's College provides international health insurance to all students abroad through GeoBlue insurance company. Students on any Saint Mary's study abroad program are automatically enrolled and the fee is included in the cost of the program.
Eligibility and Requirements
Saint Mary's students wishing to spend a year or a semester in Seville must have completed one semester of intermediate Spanish with a minimum of a 3.0 (B) average in Spanish courses, or be a heritage speaker, and have an overall GPA of 3.0. A student with less than 3.0, but not less than 2.67 (B-), may be considered but only with the strong recommendation of her Spanish instructor.
For more information, contact:   
Rebecca Méndez
Assistant Director of International Programs
Center for Women's Intercultural Leadership
(574) 284-4740
rmendez@saintmarys.edu