Shanghai & Nanjing, China
This program is currently not accepting applications and will be paused through Fall 2023. If you would like to discuss your study abroad options, please contact the CWIL office at abroad@saintmarys.edu.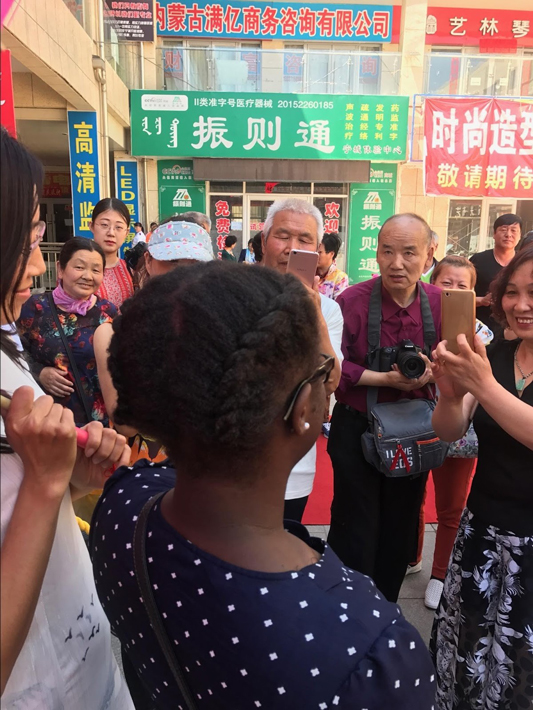 China is the fastest-growing country and has become the second largest economy in the world. It has unique history and culture and has the largest population in the world. One out of every five people in the world speaks Mandarin Chinese. Learning Mandarin and understanding Chinese culture and economic development will help students succeed in the global economy.
Program of Study
Saint Mary's College has an affiliation with the Council on International Educational Exchange(CIEE) and offers semester programs at the CIEE centers on the campuses of the East China Normal University in Shanghai and the Nanjing University in Nanjing. Students attend classes taught by the CIEE faculty and local university professors designed for the CIEE students. All the programs are customized to the needs of American students, including community services and internships opportunities. Rich extracurricular classes are also offered, including Chinese Martial Arts, Mahjong (a popular Chinese game), Chinese instrument, Chinese cooking class and Calligraphy. All the programs offer a one-week trip in China and some weekend trips close to the city.
Locations
Shanghai has become Asia's most exciting business and cultural center. Students can take business courses and many others courses (in English) to understand China in a global context. Nanjing is only 1.5 hours away from Shanghai. It was China's ancient capital and is rich in scenic and historic sights. Students can take Chinese and culture courses at the CIEE Nanjing Center. Students should make use of the rich academic resources on the campuses and professional resources in the cities.
Credits/Transcript
All the students at the Shanghai Center are required to take a Mandarin Chinese language course (6 credits) and will be placed in the appropriate level. Other courses include choosing three electives (in English). The total credits will be 15 credits.
Students at the Nanjing Center will take three courses: Readings in Chinese (6 credits), Spoken Chinese (6 credits), and Contemporary Chinese Studies (in both Chinese and English, 3 credits). The total credits will be 15 credits.
All the CIEE credits will be transferred directly to SMC.
Housing
Students at the Shanghai Center live in the international student dorm at East China Normal University (ECNU) with other CIEE students or Chinese students. Students at the Nanjing Center live in a double room in the international student dorm with a Chinese roommate, who also serves as their CIEE peer tutor. Students who some Chinese language background may choose a homestay in Shanghai or Nanjing.
Transportation, Cost, and Financial Aid
Students will get assistance in visa application and will make their own flight reservation to Shanghai. Students pay Saint Mary's College tuition, room & board and a study abroad fee. Most Saint Mary's financial aid and scholarships can be applied to their semester in China. Students will receive monthly stipends for their food in China. Students may apply for the CIEE scholarships and many other external federal scholarships also apply to study abroad programs in China, for example, Gilman Scholarship, Boren Awards, and Freeman-Asia Scholarship. To learn more about this program and associated costs, click the Application Information button and navigate to the program specific budget sheet.
Insurance
Saint Mary's College provides international health insurance to all students abroad through GeoBlue insurance company. Students on any Saint Mary's study abroad program are automatically enrolled and the fee is included in the cost of the program.
Eligibility and Requirements
The CIEE China in Global Context Program in Shanghai is open to students of all majors with any or no level of Chinese background. The Business program in Shanghai requires minimum of three semesters of college-level micro- or macroeconomics, accounting, finance, management, or marketing. The Nanjing Chinese language program is designed for students with two to six semesters of college-level Mandarin Chinese and an interest in Chinese studies. Students must have a 2.75 cumulative GPA to be eligible for this program. Students may choose to study in China for a semester or a full academic year.
Other China Programs
Students may also apply for the Shanghai Internship Semester Program offered by CAPA. Click HERE to learn more about the program.
Students Share Experiences
Photo Album by Li Chen (Spring 2017)
SMC China Trip 2011 video by Kari Keller
Alexandra Buckley shares her blog (Spring 2012)
Anastasia Tylka shares her blog (Fall 2014)
For more information, contact:  
Center for Women's Intercultural Leadership