United Kingdom, London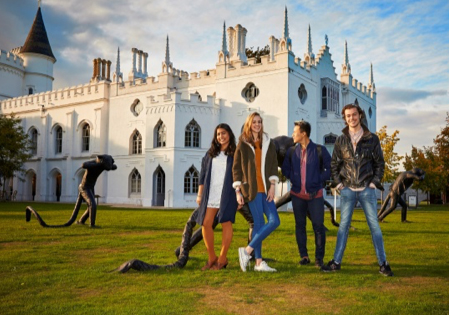 London, the capital and largest city in the United Kingdom with a population of +8.5 million, has a diverse range of peoples and cultures. As a leading global city, its strengths include prominence in the arts, commerce, education, entertainment, fashion, finance, healthcare, media, professional services, research and development, and the tourism industries. London also has the largest concentration of higher education institutions in Europe with 43 institutions. The city houses four World Heritage Sites: the Tower of London, Kew Gardens, the site comprising the Palace of Westminster, Westminster Abbey, St Margaret's Church, and the historic settlement of Greenwich. Other famous landmarks include Buckingham Palace, the London Eye, Piccadilly Circus, St. Paul's Cathedral, Tower Bridge, Trafalgar Square, and The Shard. London is home to numerous museums, galleries, libraries, sporting events and other cultural institutions, including the British Museum, National Gallery, Tate Gallery, British Library, and West End theatres. The London Underground is the oldest underground railway network in the world.

Location
The program host institution is St Mary's University, Twickenham, London. It is also called the theatre capital of the world. St Mary's campus is located on the historic Strawberry Hill area near the river Thames. The campus offers the perfect place to study and is only 30 minutes away from Central London by train, with easy access to Heathrow and Gatwick airports.
Program of Study
Founded on Catholic values, St Mary's University is an inclusive institution with a mission to provide students with an excellent education. St Mary's ranked as No 1 in London for student experience and teaching excellence by Good University Guide. It has students from more than 90 countries and thus is a truly global university. While in London, students are exposed to more than 40 programs to study, such as the Arts and Humanities, Education, Theology and Leadership, Management and Social Sciences and Sport, Health and Applied Science, and Drama and Theatre to name a few. St Mary's University also offers opportunities for an internship within your field of study. Students can study in London for either the fall or spring semester. Current Saint Mary's College students may find Sophia Program information HERE.
Housing
St Mary's offers on-campus accommodation: double rooms in De Marillac Hall or the Waldegrave Park Houses. An additional fee will be charged to students who select a single room and/or private bathroom. 
Transportation and Orientation
Students must provide their own transportation to London and back. Once students arrive in London, a free airport pick-up from Heathrow to campus is available for all Study Abroad students arriving on the set arrival date by the designated time. An optional social program is available for students to purchase before arrival. The social program takes students trips and excursions around England. All students will have a London walking tour during the first week.
Cost and Financial Aid
Students pay Saint Mary's College tuition, room & board and a study abroad fee. Saint Mary's financial aid and scholarships, except the campus employment and some tuition exchange programs, can be applied to the London Semester Program. Expenses that are not covered include round-trip airfare to London, local transportation, personal travel, books and supplies, laundry, personal expenditures, and entertainment. To learn more about this program and associated costs, click the Application Information button and navigate to the program specific budget sheet.
Insurance
Saint Mary's College provides international health insurance to all students abroad through GeoBlue insurance company. Students on any Saint Mary's study abroad program are automatically enrolled and the fee is included in the cost of the program.
Eligibility and Requirements
Students must have completed at least one academic year and an overall GPA of 2.7/4.0. Application should first be made to Saint Mary's College, with admission to the program finalized through a separate application process to St Mary's University. International students from non-native English-speaking countries are required to have a minimum overall 6.0 IELTS score with no component of the assessment below 5.5. It is important that participating students are positive representatives of Saint Mary's College while abroad and are open to new experiences and other cultures.
Visa
Students whose nationality is outside the EU will require a visa to study in the UK. There are two visa routes: short-term study visa and Tier 4 visa (for internship). More information will be offered to students at the program information sessions and the pre-departure orientation. 
Videos
International Study
Find out why students from over 90 countries choose to study at St Mary's University, Twickenham; London's number one university for Student Experience and third place for International students nationally at the Whatuni? Student Choice Awards.
The Place to Be
Hear from students about the people, place, community, and lectures and how they make St Mary's University, Twickenham the Place to Be!
Campus Tour
St Mary's University, Twickenham offers you a beautiful campus, nationally recognised teaching, great transport links and many services for international students to help you settle into your new country. Let Adam show you why we're the place to be!
For more information contact:
Alice Yang
Director for International Education
See More Options!