Belles Finish Seventh at MIAA Championships
JENISON, Mich. - The Saint Mary's swimming and diving team finished seventh at the 2013 MIAA Championships.
Calvin won their ninth consecutive championship with a team score of 802. Hope finished second with 764 points. The Belles ended the meet with 224.5 points, only seven-and-a-half points behind Olivet for sixth place.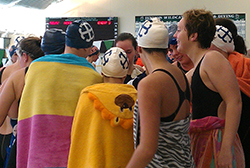 The Belles earned points in every event of the day. Ellie Watson wrapped up the weekend with the team's highest individual finish of the day with seventh place in the 200 butterfly in a time of 2:17.03. In the morning session, the senior swam the third-fastest time in program history in the 200 fly with a 2:14.56, which was nearly six seconds better than her fastest time earlier this season. Genevieve Spittler finished 13th in the morning session with a 2:24.44 before taking 15th this evening in 2:26.56.
Carolyn Neville and Anna Nolan picked up points for the Belles in the 100 freestyle. Nolan finished 14th and Neville was 15th in the preliminaries in near-matching times of 55.41 and 55.42, respectively. Tonight, both of those times dropped. Neville was less than three-tenths of a second away from the school record with a 54.72 to win the consolation final. That time was also the sixth-fastest time turned in on the night between the championship and consolation finals. Nolan finished 14th overall with a 55.19, which was .04 of a second off her personal-best time set last year.
Liz Palmer finished her career with an 11th place finish in the 1650 freestyle with a time of 19:11.59. In the 200 backstroke, Marta Carrion Barea earned a spot in the evening consolation finals with a 16th place finish in the morning in 2:29.81. She cut two seconds off of her time from the morning to finish 13th tonight with a 2:27.80.
Liz Litke and Sinead Hickey both made the consolation final in the 200 breaststroke after finishing 14th (2:46.29) and 16th (2:55.23) in the preliminaries. They both matched those finishes in the evening session as Litke swam a 2:45.38 and Hickey touched the wall in 2:59.65. Andrea Canacci continued to etch her name among the top-five diving performances in program history. She finished 14th with a 283.45, which was the third-best score in the 1 meter (11 dives) event.
In the final event of the championships, the Saint Mary's 400 freestyle A relay of Ellie Watson, Sarah Thompson, Carolyn Neville, and Anna Nolan had the fourth-best time in program history with a 3:43.34 to finish sixth.
Over the course of the entire championship meet, a new top-five all-time performance in school history was achieved on ten occassions.
Saturday Results
1650 free Results: Liz Palmer, 11th (19:11.59); Paige Handy, 19th (20:37.44)
200 back
Prelims: Marta Carrion, 16th (2:29.81)
Finals: Carrion, 13th (2:27.80)
100 free
Prelims: Anna Nolan, 14th (55.41); Carolyn Neville, 15th (55.42); Kristyn Gerbeth, 27th (57.79); Megan Knobloch, 29th (57.92); Emily Brown, 31st (58.46); Sarah Thompson, 34th (59.64)
Finals: Neville, 9th (54.72); Nolan, 14th (55.19)
200 breaststroke
Prelims: Liz Litke, 14th (2:46.29); Sinead Hickey, 16th (2:55.23)
Finals: Litke, 14th (2:45.38); Hickey, 16th (2:59.65)
200 fly
Prelims: Ellie Watson, 5th (2:14.56); Genevieve Spittler, 13th (2:24.44)
Finals: Watson, 7th (2:17.03); Spittler, 15th (2:26.56)
1 meter diving
Prelims: Andrea Canacci, 14th (283.45)
400 free relay
Prelims: A (Knobloch, Gerbeth, Brown, Hickey), 7th (3:55.09); B (Watson, Thompson, Neville, Nolan), x3:50.91
Finals: A (Watson, Thompson, Neville, Nolan), 6th (3:43.34)