Belles in Sixth Place at MIAA Championships
JENISON, Mich. - The Saint Mary's swimming and diving team sits in sixth place after day two of the 2013 MIAA Championships.
Calvin holds a first place lead with 283.5 points over Hope's 272 points. The Belles currently have 101 points heading into Friday's round.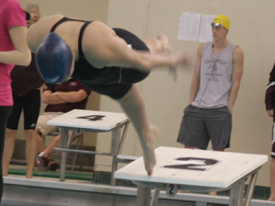 Carolyn Neville jumps off the block in the 50 free
on Thursday night. (Photo courtesy of Bobby Lee,
Albion SID)Leading the way for Saint Mary's individually were Ellie Watson, Anna Nolan, and Carolyn Neville. Watson finished ninth in the 500 free with a time of 5:12.25 to win the consolation final. Nolan and Neville, meanwhile, took ninth and tenth in the consolation final of the 50 free. Nolan cracked into the 24s with a 24.99 for ninth place, which was the fifth-fastest time of the evening session in either final. Neville cut well over a second off of her time in the event with a 25.19 in the evening session for tenth place for the Belles. The freshman also cracked into the top-five all-time performances in the event in program history as she now holds the third-best time in the event.
The team's two relays also had strong performances on the day. The 200 free relay group of Nolan, Neville, Sarah Thompson, and Watson swam a 1:41.01 in the morning preliminaries for the second-fastest time in the event in program history. In the evening championship final, Nolan, Neville, Megan Knobloch, and Watson improved upon that performance with a 1:40.54 to miss out on the school record by just 16 hundredths of a second while finishing in fifth. The 400 medley relay of Knobloch, Liz Litke, Genevieve Spittler, and Kristyn Gerbeth cut time from their morning swim with a 4:23.92 to finish seventh in the team's final event of the night.
Nearly ever member of the team cut time off of their seeded times in the individual events on the day for the Belles, including almost a nine-second improvement by Liz Palmer in the 500 free and a four-and-a-half second cut in time by Emily Brown in the same event.
The Belles return to the pool tomorrow morning at 10 a.m. for the preliminary races of the 200 medley relay, 400 individual medley, 100 butterfly, 200 free, 100 breaststroke, and 100 backstroke as well as the women's 1-meter diving.
Thursday Results
200 free relay
Prelims: A (Emily Brown, Kristyn Gerbeth, Sinead Hickey, Megan Knobloch), 6th (1:46.91); B (Anna Nolan, Carolyn Neville, Sarah Thompson, Ellie Watson), exh (1:41.01)
Finals: A (Nolan, Neville, Knobloch, Watson), 5th (1:40.54)
500 free
Prelims: Watson, 9th (5:15.87); Brown, 26th (5:34.23); Liz Palmer, 29th (5:40.36); Paige Handy, 35th (5:58.87)
Finals: Watson, 9th (5:12.25)
50 free
Prelims: Nolan, 10th (25.19); Neville, t-12th (25.29); Knobloch, 22nd (25.96); Thompson, 29th (26.50); Gerbeth, 32nd (27.45); Hickey, 33rd (27.91); Liz Litke, 34th (27.97); Marta Carrion, 36th (28.81)
Finals Nolan, 9th (24.99); Neville, 10th (25.19)
400 medley relay
Prelims: A (Knobloch, Litke, Genevieve Spittler, Gerbeth), 5th (4:24.73)
Finals: A (Knobloch, Litke, Spittler, Gerbeth), 7th (4:23.92)