The Art of Taxonomy
"Taxonomy" Exhibit blends art and science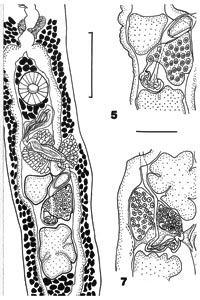 Hapalorhynchus brooksi,
Pen and ink on trace paper
"It all depends on how you define art," according to biology professor Thomas Platt. He is referring to his "Taxonomy" exhibit at the Moreau Art Galleries. He says it's up to the viewer to decide whether or not his magnified drawings of parasitic worms, collected from the circulatory systems of turtles, can be considered actual "art." The exhibit features drawings like this one (right) of "Hapalorhynchus brooksi," which he has submitted to science journals along with his articles over the years. Platt's drawings are now on display at the Moreau Center for the Arts through September 26.

When asked where he gets his ideas, the professor, who joined the Saint Mary's Department of Biology in 1986, responds that the drawings are simply part of his process. "They are sketches of a new species. When you submit an article on a new species, you make an accurate representation of what you see and of those features that are necessary to accurately identify it."

Creating the drawings involves the aid of a camera lucida attached to a microscope. This attachment takes the magnified image of a specimen and projects it onto a tracing paper, where Platt can view the specimen and his hand as he traces. "In short, I do a lot of tracing!" jokes Platt. The pencil drawing is then rendered on velum in India ink and Platt submits the drawing to a publication.

Platt involves students in his collection of the parasite specimens that make up his art. In addition to teaching Introduction to Biology for non-majors and Parasitology, Platt conducts a Marine Biology course every other year, which includes travel to Jamaica. Students in the course get to study their subject up close and personal at the Hofstra University Marine Laboratory (HUML), located on the shore of St. Ann's Bay. "Just a joy," is how Platt describes Saint Mary's students in this and other courses. "They are incredibly hardworking, dependable, and ask intelligent questions. I can't imagine being anyplace else."

For more about art at Saint Mary's, visit our Student Exhibitions or read the story of alumna Candie Waterloo '04.