Faller Recognized With Sportsmanship Award, Named All-MIAA
ROYAL OAK, Mich. - Saint Mary's senior tennis player Mary Catherine Faller was recognized by her peers and the league coaches with a pair of conference awards as announced by the league office on Friday.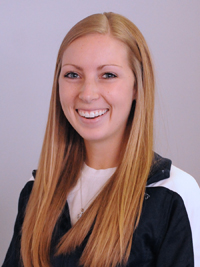 Faller was voted by her Michigan Intercollegiate Athletic Association (MIAA) competitors as the 2014 Sue Little Sportsmanship Award recipient. The description states, "The winner of this award is selected by the tennis players as best exemplifying courtesy and sportsmanship both on and off the courts." Each MIAA singles and doubles player receives a vote for the award, and players are not allowed to vote for their own teammates. Faller becomes the fourth Saint Mary's tennis player in program history to receive the conference's sportsmanship award.
The senior number one doubles and number one singles player was also selected by the MIAA coaches as an All-MIAA Second Team honoree. After starting league play with a 6-0, 6-0 win against Olivet, Faller picked up back-to-back number one singles wins in the team's conference victories over Alma and Adrian midway through the season. She also helped contribute to number one doubles matches in four of the team's eight league competitions.
It is the third consecutive All-MIAA honor of her career.
Additionally, at least one member of the Saint Mary's tennis team has been tabbed as either a First Team or Second Team All-MIAA honoree each year since 1998.

Most Valuable Player
Sarah Woods, Kalamazoo
(sophomore from Oconomowoc, Wis./Divine Savior Holy Angels HS)
Sue Little Sportsmanship Award
Mary Catherine Faller, Saint Mary's
(senior from Green Bay, Wis./Notre Dame Academy)
Karen Caine Scholar-Athlete Award
Mallory Smith, Hope
(senior from Grand Haven/Grand Haven HS)
All-MIAA First Team
Sarah Woods, Kalamazoo** (sophomore from Oconomowoc, Wis./Divine Savior Holy Angels HS)
Nancy Benda, Hope* (freshman from Birmingham/Seaholm HS)
Marissa Cloutier, Albion*** (senior from Grosse Ile/Grosse Ile HS)
Claire Cooper, Hope* (sophomore from Williamston/Williamston HS)
Jenna Riehl, Kalamazoo* (senior from St. Joseph/St. Joseph HS)
Jessica Huhnke, Trine*** (senior from Newburgh, Ind./Castle HS)
*-number of years All-MIAA first team
All-MIAA Second Team
Katie Blumberg, Albion (senior from Farmington Hills/Farmington HS)
Carli Capestany, Hope (junior from Hudsonville/Hudsonville HS)
Megan Visser, Calvin (junior from Kalamazoo/Kalamazoo Christian HS)
Mary Catherine Faller, Saint Mary's (senior from Green Bay, Wis./Notre Dame Academy)
Irene Chen, Albion (junior from Shenzhen, China/Apple Valley, Minn. HS)
Kelsey Moran, Kalamazoo (senior from Grand Blanc/Grand Blanc HS)