Belles Fall to Polar Bears
NOTRE DAME, Ind. - The Saint Mary's tennis team lost a 7-2 decision against No. 13 regionally-ranked Ohio Northern in their first match of the spring season.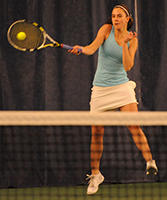 Andrea Fetters won in straight
sets on Friday night.Andrea Fetters picked up a commanding 6-1, 6-2 win at number six singles. Mary Catherine Faller out-dueled her counterpart at the number one singles flight by 6-4, 6-4 scores.
Kayle Sexton nearly forced a tie-breaker at the number two singles flight before narrowly falling 7-5 in her second set.
In doubles play, all three flights were tightly contested. The one and two doubles flights were both decided by two games while the three doubles was decided by three games.
The Belles return to action next Saturday, February 22 when they travel to Aquinas for a 6:00 p.m. match.

Results
Ohio Northern Women 7, Saint Mary's College 2
Singles competition
1. Mary Catherine Faller (SMC) def. Christina Corbean (ONU) 6-4, 6-4
2. Taryn Stromback (ONU) def. Kayle Sexton (SMC) 6-3, 7-5
3. Meghan Letizia (ONU) def. Shannon Elliott (SMC) 6-4, 6-1
4. Kristin Cellentani (ONU) def. Jackie Kjolhede (SMC) 6-3, 6-2
5. Rachael Miller (ONU) def. Audrey Kiefer (SMC) 6-2, 6-3
6. Andrea Fetters (SMC) def. Brittany Toney (ONU) 6-1, 6-2
Doubles competition
1. Christina Corbean/Brittany Toney (ONU) def. Mary Catherine Faller/Kayle Sexton (SMC) 9-7
2. Taryn Stromback/Rachael Miller (ONU) def. Shannon Elliott/Audrey Kiefer (SMC) 8-6
3. Meghan Letizia/Kristin Cellentani (ONU) def. Margaret Faller/Sam Setterblad (SMC) 8-5