Belles Fall in MIAA Semifinal to Conclude Season
HOLLAND, Mich. - The Saint Mary's tennis team's season came to a close with a 5-0 loss to No. 26 nationally-ranked Hope in the semifinal round of the MIAA Tournament on Thursday.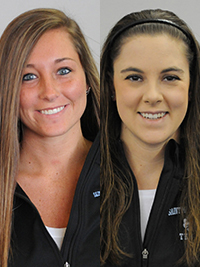 Shannon Elliott and Andrea FettersKayle Sexton and Sam Setterblad were the first group done at doubles as the pair fell by an 8-1 score at the one doubles flight. Margaret Faller and Maddie Minaudo ended on the short side of an 8-2 final at three doubles. Shannon Elliott and Andrea Fetters fought hard but were unable to claim the win at two doubles in an 8-5 final.
The match, which was played to decision, ended after two singles matches were completed. Fetters fell 6-0, 6-1 at one singles before Faller shouldered a 6-2, 6-1 loss at five singles.
The Belles end their season with an 11-10 overall record while making the top-four MIAA Tournament for the second consecutive season.
#26 Hope College 5, Saint Mary's College 0
Singles competition
1. Nancy Benda (HOPE) def. Andrea Fetters (SMC) 6-0, 6-1
2. Carli Capestany (HOPE) vs. Kayle Sexton (SMC) 6-5, unfinished
3. Anna Garcia (HOPE) vs. Jackie Kjolhede (SMC) 6-1, 4-1, unfinished
4. Paige Courts (HOPE) vs. Shannon Elliott (SMC) 6-3, 5-0, unfinished
5. Kate Mader (HOPE) def. Margaret Faller (SMC) 6-2, 6-1
6. Natalie Rahrig (HOPE) vs. Bailey Oppman (SMC) 6-1, 2-0, unfinished
Doubles competition
1. Nancy Benda/Carli Capestany (HOPE) def. Kayle Sexton/Sam Setterblad (SMC) 8-1
2. Claire Cooper/Kelly Daniel (HOPE) def. Shannon Elliott/Andrea Fetters (SMC) 8-5
3. Marie Holaway/Anna Garcia (HOPE) def. Margaret Faller/Maddie Minaudo (SMC) 8-2