Belles Split Against Pair of Saints Squads
ORLANDO, Fla. - The Saint Mary's tennis team defeated St. Scholastica by a 6-3 final before being narrowly defeated by St. Francis (Ill.) 5-4 on Monday in Florida.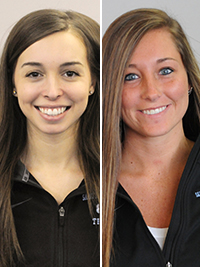 Jackie Kjolhede and Shannon
Elliott each won both of their
singles matches.Against St. Scholastica, the Belles were just a few points away from building a commanding lead through the conclusion of doubles play. As it stood, however, the Belles trailed the Saints 2-1 when the first round of matches had concluded. Sam Setterblad and Maddie Minaudo earned a tight 9-7 win at three doubles. Andre Fetters and Shannon Elliott fell in a tiebreaker at the two doubles flight by a 9-8 (9-7) score. Kayle Sexton and Margaret Faller were on the wrong side of an 8-4 final at one doubles.
Saint Mary's would have the final say in singles play against St. Scholastica. The Belles claimed wins in the first four flights which were completed to clinch the win. Kayle Sexton fought back from an early deficit to win 3-6, 6-4, 1-0 (11-9) in a nail-biter at two singles. Jackie Kjolhede was solid in a 6-3, 6-2 win at three singles. Andrea Fetters held the edge in her second set at one singles for a 6-1, 7-5 victory. Shannon Elliott secured the team win with a 6-4, 6-3 decision at four singles. Baily Oppman added to the winning margin with a 6-3, 6-2 win at six singles. Margaret Faller was narrowly defeated in a 5-7, 6-2, 1-0 (10-6) final at five singles to round out the results.
In the second match of the day against a team with Saints as their mascot, the outcome was not as favorable for the Belles. Kaity Venters and Rina Moore won an 8-4 match at three doubles for Saint Mary's. Kayle Sexton and Margaret Faller lost an 8-4 final at one doubles, and Shannon Elliott and Andrea Fetters fell by a close 8-6 margin at two doubles.
The singles results were split down the middle to give the Saints the victory. Jackie Kjolhede won her first set 7-5 before falling 6-0 in the second set at three singles. In the tiebreaker, however, the senior was victorious by a 10-4 margin. Shannon Elliott was solid in a 6-4, 6-3 final at four singles. Kelsey Kopf earned a strong 6-0, 6-3 win at six singles for the Belles.
Andrea Fetters was on the short end of a 6-3, 6-1 final at one singles while Kayle Sexton ended on the tough side of a 6-2, 6-0 decision at two singles. Margaret Faller rounded out the Belles' results with a 6-2, 6-1 loss at five singles.
Tuesday is a rest day for the Belles as the tennis team returns to the courts for an 11:30 a.m. match on Wednesday, March 11 against Haverford.
Saint Mary's College 6, St. Scholastica 3
Singles competition
1. Andrea Fetters (SMC) def. Alexis Gunderson (CSS) 6-1, 7-5
2. Kayle Sexton (SMC) def. Madeleine Scanlan (CSS) 3-6, 6-4, 1-0 (11-9)
3. Jackie Kjolhede (SMC) def. Daniela Rojas (CSS) 6-3, 6-2
4. Shannon Elliott (SMC) def. Miki Samz (CSS) 6-4, 6-3
5. Sarah Coryell (CSS) def. Margaret Faller (SMC) 5-7, 6-2, 1-0 (10-6)
6. Bailey Oppman (SMC) def. Alexia Brascugli (CSS) 6-3, 6-2
Doubles competition
1. Madeleine Scanlan/Daniela Rojas (CSS) def. Kayle Sexton/Margaret Faller (SMC) 8-4
2. Alexis Gunderson/Sarah Coryell (CSS) def. Andrea Fetters/Shannon Elliott (SMC) 9-8 (9-7)
3. Sam Setterblad/Maddie Minaudo (SMC) def. Miki Samz/Alexia Brascugli (CSS) 9-7
Match Notes:
Order of finish: Doubles (1,3,2); Singles (2,3,1,4,5,6)
St. Francis 5, Saint Mary's College 4
Singles competition
1. Danielle Hoffman (USF-IL) def. Andrea Fetters (SMC) 6-3, 6-1
2. Gabby Demchenko (USF-IL) def. Kayle Sexton (SMC) 6-2, 6-0
3. Jackie Kjolhede (SMC) def. Eva Lopez (USF-IL) 7-5, 0-6, 1-0 (10-4)
4. Shannon Elliott (SMC) def. Ashley Golda (USF-IL) 6-4, 6-3
5. Brittney Kupiec (USF-IL) def. Margaret Faller (SMC) 6-2, 6-1
6. Kelsey Kopf (SMC) def. Haley Collins (USF-IL) 6-0, 6-3
Doubles competition
1. Danielle Hoffman/Eva Lopez (USF-IL) def. Kayle Sexton/Margaret Faller (SMC) 8-4
2. Gaby Demchenko/Brittney Kupiec (USF-IL) def. Shannon Elliott/Andrea Fetters (SMC) 8-6
3. Kaity Venters/Rina Moore (SMC) def. Ashley Golda/Haley Collins (USF-IL) 8-4