Time Out Program
"Time Out" Program Turns Ten: Nursing Students Volunteer Thousands of Service Hours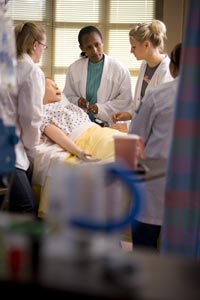 Saint Mary's is known for it's nursing program, which is one of the College's six nationally accredited majors. While nursing has been a part of the College for 30 years, one of its' most treasured nursing services, the Time Out program, turns 10 years old this month. Time Out participants are nursing students who provide respite services, or temporary care, to families with children with special needs.
Each student enrolled in the "Child Health Nursing" course is required to provide 16 volunteer hours of respite care to an assigned family during the course of the semester. Last semester junior Kathleen Quinlan worked with a family whose son has cerebral palsy. The nursing major and biology minor became so close with the family that she decided to continue providing respite care for them this semester. "I think it's important for Saint Mary's students to be involved in some sort of service because it teaches that this world is so much bigger than what is going on in our particular lives," she says.
Since the Time Out program began, Saint Mary's nursing students have put in more than 3,836 hours of respite services. They are gaining the many benefits of service work while applying their classroom learning to the experience of caring for children. In the past ten years they have enhanced the lives of 82 participating families.
"In this community and across the country there is a void of respite services for families with children with special needs," says nursing professor Jayne Kendle, coordinator of the Time Out program. Kendle, who has over 25 years of experience as a pediatric nurse, has run the program since its inception. "These students provide a valuable service to families, and the students also benefit from the time they spend with the families and these chronically ill children."
Learn more about the Saint Mary's nursing program in the latest issue of Courier, or read about nursing major Kaitlin Cox.