Transfer Admission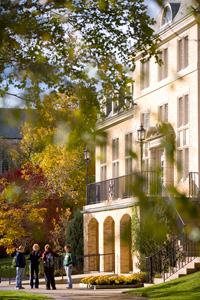 As a transfer student, you bring a unique perspective and diverse experiences to our community that will help make Saint Mary's a more vibrant place to live and study. We value your voice in classroom discussions and welcome your contributions to campus events.
We are an ideal choice if you are looking for:
A liberal arts curriculum with an emphasis on writing within your major area of study
An educational experience geared toward the way women learn
An abundance of academic, co-curricular, and extracurricular leadership opportunities
Discussion-based classes that average 15 students
Close interaction with faculty who are dedicated to working with undergraduate students
Networking opportunities with alumnae all over the world
Our Transfer Admission Coordinator, Sarah Braun, will help you through the process. Having transferred to Saint Mary's after her sophomore year of college, Sarah is very familiar with the unique needs you have as a transfer student. She can be contacted at sbraun@saintmarys.edu or 800-551-7621.