12 Days of Christmas: Saint Mary's makes the season bright for local families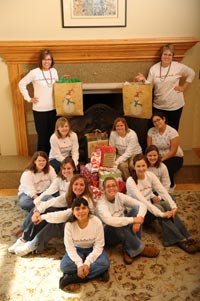 The Office for Civic and Social Engagement (OCSE) at Saint Mary's College is coordinating its 5th annual 12 Days of Christmas Project, December 1-12. Students, faculty, and staff will participate in special events, service projects, and fundraisers, which will provide food, clothing, and gifts to area families in need this Christmas season.

Sophomore Jennifer Kornexl is passionate about making Christmas special for needy families. "I see others who are less fortunate and I feel that I have no reason to not help," says the psychology major. She has been involved with the project for the past two years now, participating in many facets of it including, "collecting clothes for the needy, helping to organize the blood drive, and this year I will be helping out with the craft show."

The craft show, which is open to the public, will feature the original works of over 35 local artisans. Money raised will go to the 12 Days program to purchase food and clothing for families and individuals. This year, for the adopt-a-family part of the program, the College is supporting 15 families and 15 individuals.
"During these tough economic times, we must heed the call to love our neighbors more than ever," says Carrie Call, director of the OCSE. "The 12 Days events are a fun and easy way to make a very real difference in the lives of people around us. As a faith based institution, Saint Mary's is trying to respond to Jesus' words, 'Whatesoever you do unto the least of these, you do unto me.'"
For more on the OCSE, read about assistant director Olivia Barzydlo Critchlow '05.