Volleyball Coaches
Head Coach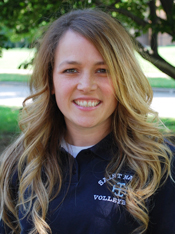 Toni Elyea
Toni Elyea will begin her sixth season as the head volleyball coach for the Belles in the fall of 2014.
Elyea's first season saw one of her players receive First Team All-MIAA honors along with two Player of the Week awards. After bringing in a very strong first-year class in 2011, Elyea's team improved in nearly every statistical category.
The 2012 season was laden with success. The team stormed out to a 4-0 record for the first time under Coach Elyea to earn the tournament title at the North Park Classic. A few short weeks later, the Belles earned four consecutive MIAA wins to post a 4-1 league record through the first five matches. That 4-1 mark was the best five-match record for a Saint Mary's volleyball team since joining the conference in 1997. The season ended with sophomore Kati Schneider garnering First Team All-MIAA honors making her the fifth player in program history to be named to the All-MIAA First Team for the Belles.
During the 2013 season, Schneider repeated as a First Team All-MIAA honoree while Katie Hecklinski earned Second Team All-MIAA accolades to give the team multiple all-conference student-athletes for the first time since 2008. As a team, the Belles finished fourth in the MIAA and earned a berth in the MIAA Tournament.
During Elyea's tenure, the Belles have had four All-MIAA honorees. She has seen players achieve Player of the Week honors eight times and coached several athletes to All-Tournament team awards. Moreover, Elyea has consistently had success academically including multiple AVCA Team GPA Awards.
Originally from Pine River, Minnesota, Elyea is a graduate of Pine River-Backus High School. After a successful prep career in volleyball and softball, she went on to play collegiate volleyball and softball at Central Lakes College. During her time at Central Lakes, she was a defensive specialist for two state, regional, and national championship volleyball teams. She also was the starting catcher at Central Lakes where her team finished both seasons as state and regional champions as well as, finishing seventh at the national championship in 2001. From Central Lakes, she went on to earn her bachelor's degree in recreation and sport management from Saint Cloud State University in 2005.
Assistant Coaches
Alisha Ewing
Alisha Ewing joins the Saint Mary's College volleyball coaching staff in the fall of 2014 with a wealth of playing, coaching, and intercollegiate athletics experience.
Most recently, Ewing spent the last year and a half at NCAA Division I Tennessee State University where she filled the roles of assistant volleyball coach and athletic academic advisor. She coordinated recruiting, focused on teaching the defensive side of the game, and worked on scouting reports while with the Tigers.
Prior to that appointment, Ewing was the Director of Volleyball Operations at the University of Notre Dame from 2008 to 2013. She also served as the head coach of the Northern Indiana Volleyball Association 16 travel team from 2010 to 2013. Her coaching experience also includes assistant positions at Trevecca Nazarene University and Trinity High School as well as several collegiate volleyball camps.
A 2005 graduate of Bethel College with a degree in sports management, Ewing was a highly successful volleyball and track athlete. She earned NCCAA indoor and outdoor high jump champion titles in 2003 and 2004 while also earning NAIA All-American status in the event from 2001-05. A four-year member of the Pilots' volleyball squad, she was the captain of the 2004 team while also earning Dean's List honors.
Ann Mason
Ann Mason enters her first year as a volunteer assistant coach with the Saint Mary's volleyball team in the fall of 2014.
She joins the staff with several years of coaching and playing experience. She played four years at Mishawaka Marian High School, where she was also a team captain her senior year and helped lead the Knights to a 35-4 record and an Indiana High School Athletic Association State Runner Up finish.
The South Bend native went on to play her freshman year at Saint Mary's and was named the team's most improved player at the end of the season. During her sophomore through senior years, she was a student manager with the University of Notre Dame's football and men's lacrosse teams.
Mason is a 2008 graduate of Saint Mary's College, having earned her degree in business administration. She then went on to earn a master's degree in sports administration from Xavier University in 2010. She currently works in the College's Office of Special Events. Prior to her current position, she spent two years working for the Game Management Department at the University of Notre Dame.
Faculty Advisor
Bill Svelmoe - History Professor
Team Chaplain
Sister Louisita "Lou" Welsh, CSC