Volleyball Earns AVCA Team Academic Award

LEXINGTON, Ky. - The Saint Mary's volleyball team was one of 90 NCAA Division III squads to earn the American Volleyball Coaches Association (AVCA) Team Academic Award for the 2011-2012 season.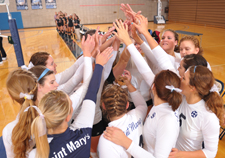 Head coach Toni Kuschel's team was one of four MIAA members to earn the academic distinction for maintaining at least a 3.30 cumulative team grade-point average on a 4.0 scale. The Belles had a 3.369 team grade point average for the 2011-12 academic year.

"I am extremely proud of my team for receiving this year's AVCA Team Academic Award," Kuschel said. "It's great to see them recognized at the national level for all of the hard work this academic year."

The Team Academic Award has become one of the AVCA's fastest growing awards programs, seeing an impressive surge in teams honored over the past several years. Since the 2000-2001 season, the number of recipients has increased every single year but one, while amassing an overall 200% increase over the span of the last decade.  Since the award's inception in 1993, the award has risen by an astounding 760%. This year, Division III set a new record with 90 winners, including Saint Mary's.