Belles Back on Track with Sweep of Comets
OLIVET, Mich. - The Saint Mary's volleyball team defeated conference foe Olivet, 3-0 (27-25, 26-24, 25-21) on Saturday afternoon.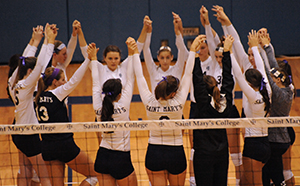 The Belles staged a big comeback in the opening set. Trailing 15-7, Saint Mary's rattled off seven points in-a-row to make it a 15-14 score. The Comets maintained the edge in the scoring column as the teams traded points back and forth. With Olivet ahead 23-19, the Belles put together a four-point run to pull even at 23-23. The Comets took the next point to go ahead set-point, but the Belles continued to persevere and turn the tide to go ahead 25-24. The Belles closed out the first-set win by capitalizing on an Olivet service error followed up by a solo block by Kati Schneider.
The Comets came out in the second set and again claimed a sizable early lead. With Olivet ahead 13-7, Saint Mary's put together a six-point run to tie the set at 13-13. A few points later, Schneider and Kuczek put down back-to-back kills to give the Belles a 16-14 advantage. The Comets drew even at 19-19 before taking a late 23-21 lead against the Belles. Again, Saint Mary's had a response and tied the set at 23-23. The Belles were up 24-23, but the Comets kept the set alive on a Saint Mary's attack error. The Belles, however, were able to go ahead two sets to none on a block and a kill for the 26-24 win.
An early seven-point run by Saint Mary's in the third gave the Belles a 9-4 advantage and a lead they did not relinquish. The Comets did not go away quietly and edged within two points late in the set at 22-20, but the Belles were able to trade points back and forth late and maintain at least a two-point lead on the way to the decisive 25-21 win for the sweep.
Katie Hecklinski led all players with 12 kills while chipping in 15 digs for her seventh double-double of the season. Melanie Kuczek added 11 kills on the afternoon, and Clare McMillan registered a .455 attack percentage with five kills on 11 attempts while also posting 35 assists and 10 digs. Meaghan Gibbons and Sam Grady each matched Hecklinski's dig output with 15 digs.
The Belles (8-8, 5-5 MIAA) travel to Albion on Wednesday, October 8 for a 7:00 p.m. conference match against the Brits.