Volleyball Coaches
Head Coach
Denise Van De Walle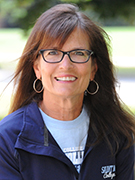 email
Denise Van De Walle has been named the new head coach of the varsity volleyball program for the 2015 season.
Van De Walle comes to the College with a wealth of coaching experience, which includes working with Ball State University, Bowling Green State University, USA Volleyball, and the University of Notre Dame.
With more than 30 years of experience in NCAA Division I volleyball, she served as the head coach at Bowling Green from 1983 to 2011. During her tenure, the Falcons won over 500 matches while claiming Mid-American Conference (MAC) Championships three times. In 1991, Van De Walle led Bowling Green to the MAC Tournament title and their first NCAA tournament appearance in program history. Her squad was crowned MAC East Division Champions twice. Van De Walle was named MAC Coach of the Year four times in her career. She coached three MAC Players of the Year and had 23 student-athletes earn All-MAC First or Second Team honors 39 times. Moreover, her teams earned American Volleyball Coaches Association (AVCA) academic honors 13 times.
During her time at Bowling Green, Van De Walle also served as the AVCA president in 2001 and sat on the association's Board of Directors from 1995-2002. Additionally, she was on the USA Volleyball Board of Directors from 1998-2003.
Van De Walle was instrumental to the development and early success of the USA Women's National Sitting Volleyball Team. While serving as an assistant coach in the first years of the program, she helped guide Team USA to a bronze medal in the 2004 Athens Paralympic Games before leading the team to a silver medal in 2008 at the Beijing Paralympic Games.
Van De Walle is a graduate of Ball State University and earned both her Bachelor of Science and Master of Arts in Elementary Education from Ball State. A four-year letter winner for the Cardinals, she was part of a record-setting squad which still holds the program record for wins in a season (35).
"Growing up in South Bend, I've been familiar with Saint Mary's College since high school," said Van De Walle. "It has a wonderful reputation of excellence. I'm excited to be a part of it and very excited to be the Belles' new head volleyball coach"
"I'd like to thank Director of Athletics Julie Schroeder-Biek for pursuing me, and all the coaches and players I met in the interview process," added Van De Walle. "It was an easy decision after the interview. Being in one of the toughest Division III volleyball conferences in the country makes this all the more exciting. I'm looking forward to getting into the gym!"
Van De Walle begins her position on August 17, 2015.
Assistant Coaches
TBA
Faculty Advisor 
Bill Svelmoe - History Professor
Team Chaplain 
Sister Louisita "Lou" Welsh, CSC