Women's Appreciation Week
Women Past and Present: Celebrating Women's Appreciation Week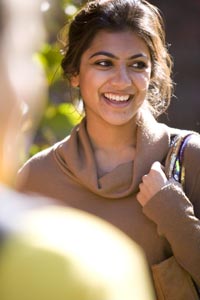 We're celebrating women leaders this week at Saint Mary's College – their accomplishments and their shared history. As part of the Student Diversity Board's Women's Appreciation Week, students will host speakers, participate in discussions and panels, and raise funds to support women in need.

Organized Women
Dolores Huerta, a well-known activist for immigrant worker's rights, visited campus as part of the week's activities. Huerta is the co-founder of United Farm Workers. She spoke to students about social change and immigration reform on Tuesday in the Vander Vennett Theater. "It is not very often that we get to listen to women like this share their stories and experiences," says Student Diversity Board president Abby Hinchy.

Opportunities to Serve
Hinchy, a senior social work major, has been hard at work planning the events with the rest of the Student Diversity Board members. "We are able to be innovative and develop and implement new activities and events that have never been done before," she says. Today students will hear from Nikki Hutchinson, president of the League of Women Voters.
Throughout the week, students are raising funds to support the "Protecting Futures Campaign," contributing to the education of young women in Southern Africa. "Women's Appreciation Week allows us to bring the issues we believe are important to the attention of the entire student body," explains Hinchy. This week's student-led activities provide students with opportunities to celebrate a rich history of women leaders as they develop their own leadership skills.
Women's Appreciation Week is a part of Women's History Month. Read more about Women's History Month at Saint Mary's here.