Past Events
Past WOST Events
Spring 2009 * Fall 2008 * Fall 2007 * Spring 2007 * Spring 2006 * Spring 2005 * Fall 2004 * Spring 2004 * Fall 2003 * Spring 2003 * Fall 2002



TRANSGENDER 101: Some Honest Talk about Transgender Individuals


Nicholas J. Allen-Michiana Transgender Alliance
Monday April 14 at 7PM
Mother Pauline Room in the Library

---




"Women at the Political Table: No Longer Setting and Serving"

Tuesday, October 14
7:00 P.M.
Stapleton Lounge, LeMans Hall

Free and Open to the Public,

Reception afterwards also open to the Public


Join us for our guest speaker:

Woodrow Wilson Visiting Fellow
MARJORIE MARGOLIES-MEZVINSKY
Chair of Women's Campaign International

Marjorie Margolies-Mezvinsky chairs Women's Campaign International, a group that provides grassroots political training to women around the world. She spent 20 years as a journalist with NBC's stations in New York and Washington, D.C., and was a correspondent to The Today Show, Sunday Today, A Closer Look, CNBC, and Real Life with Jane Pauley. She has won five Emmy awards and numerous other awards. In 1992,

Ms. Mezvinsky became the first woman ever elected to Congress from Pennsylvania. In 1995, she led the United States delegation to the United Nations' Fourth International Women's Conference in Beijing, China. She has since represented U.S. delegations to India, Spain, Austria, Turkey, and Kazakhstan. Ms. Mezvinsky served as President of the Women's Campaign Fund and the Women's Campaign Research Fund from 1996 to 1998. In 1998, she was the Democratic candidate for Lieutenant Governor of Pennsylvania. She is currently a fellow at the Fels Center of Government at the University of Pennsylvania and is the author of four books, including the 1976 best seller, They Came to Stay.




---




SYMPOSIUM ON GENDER VIOLENCE

October 1-2, 2008


October 1st 5pm Screening: Take my Eyes by Iciar Bollain (Spain)

Vander Vennet Theater (Student Center)

-Snacks and refreshments will be served-

October 2nd 5-7pm Panel on Gender Violence

Vander Vennet Theater (Student Center)

Presenters:

Edith Miguda (Saint Mary's College): "Women and Violence in Electoral

Politics in Africa"

Yana Hashamova (OSU): "Trafficking in Women: Reality and

Representation"

Bettina Spencer (Saint Mary's College): "Rethinking Gendered Violence:

Domestic Abuse and Family Systems"

Linda S. Baechle (YWCA of St. Joseph County): "Justice for Domestic

Violence Victims in United States"




---

---

---

Documentary: "The Celluloid Closet"
Tuesday February 27, 7 pm
Vander Vennet Theater, Student Center

This 1996 award-winning documentary chronicles 100 years of Hollywood film depictions of gays, lesbians, and bisexuals in mainstream film and the attitudes behind these representations. The film explores the changing face of cinema sexuality over the twentieth century, from cruel stereotypes to covert love to the activist triumphs of the 1990s. With clips from over 100 Hollywood movies and interviews with many of the filmmakers and actors who created them (including Tom Hanks, Shirley MacLaine, Susan Sarandon, Whoopi Goldberg, Tony Curtis, and Gore Vidal), "The Celluloid Closet" is a must-see for those interested in the politics of media representations.

Monday March 26th - New!
"Gender, Race, and Marriage in an American Scandal"
A talk by Heidi Ardizzone, Assistant Professor of American Studies, University of Notre Dame
5:30 in Stapleton Lounge

Dr. Aridozzone will give a talk based on her recent book Love on Trial: An American Scandal in Black and White, coauthored with Earl Lewis, about Alice Jones Rhinelander, the daughter of a taxi stand owner who married the son of a New York millionaire married in 1924. Their marriage was front page news for local papers. However, when reporters discovered that the new Mrs. Rhinelander was mixed race, their marriage and subsequent annulment trial became a national sensation. What does the Rhinelander Case tell us about women's roles, race and sexuality, and interracial marriage in the 1920s?

Wednesday March 28th - New!
Dinner with Women's Studies students and faculty
5:15-6:45 in Conference Rooms A & B off of the Dining Hall

Please contact Astrid Henry (ahenry@saintmarys.edu) if you need a meal ticket for this event.

Monday April 2nd - New!
Film Screening: Dangerous Living: Coming Out in the Developing World
7 p.m. in the Vander Vennet Theater, SMC Student Center

This award winning 2003 film, from the directors of Before Stonewall and After Stonewall, is the first documentary to deeply explore the lives of gay and lesbian people in the non-western cultures. Traveling to five different continents, we hear the heartbreaking and triumphant stories of gays and lesbians from Egypt, Honduras, Kenya, Thailand, and elsewhere, where most occurrences of oppression receive no media coverage at all. By sharing the personal stories coming out of developing nations, Dangerous Living sheds light on an emerging global movement striving to end discrimination and violence against gay, lesbian, bisexual, and transgendered people. Endorsed by Human Rights Watch as a documentary that sheds light on human rights abuses through the world.

For more information on these events, please contact Professor Astrid Henry, Coordinator of the Women's Studies Program, at ahenry@saintmarys.edu or 284-4476.

---




WOMEN'S HISTORY MONTH
Saint Mary's College - March 27-30, 2006
For more information on these events, please contact Astrid Henry at ahenry@saintmarys.edu.


Documentary: "I Was a Teenage Feminist" followed by a Q&A with filmmaker Therese Shechter
Monday March 27
7 p.m., Vander Vennett Theater, Student Union

From the film's website (http://www.trixiefilms.com/teenfem):
"I WAS A TEENAGE FEMINIST is a personal journey into a powerful, political movement that once sparked passionate response and social revolution, but now routinely evokes discomfort, indifference and even disdain. Armed with a video camera, an inquiring mind, and an irreverent sense of humor, filmmaker Therese Shechter crisscrosses both the continent and her own psyche in the hope of reconnecting to the power and sense of purpose that feminism gave her as a teenager in the 1970s. As Therese searches for her own voice and place in the feminist movement and tries to come to terms with her identity as a woman today, she asks fundamental questions: How did feminism lose its voice? Does it even exist today and for that matter, what is feminism? . . . In this delightfully creative and engaging film, Therese acts as a surrogate for all women asking questions about women's roles and identities in our society and culture. I WAS A TEENAGE FEMINIST features insightful commentary from Gloria Steinem and Ms. founding editor Letty Cottin Pogrebin, as well noted Third Wave activists Jennifer Baumgartner (co-author of "Manifesta") and Jennifer Pozner (of Women In Media & News.) With Therese's witty, honest voice, a vibrant cast of thought-provoking characters, and a sassy soundtrack featuring Ani DiFranco, Gina Young, MoxieStarpark, the classic Free to Be…You and Me and the legendary Helen Reddy, I WAS A TEENAGE FEMINIST redefines the F-word for a new generation."

Talks by Women's Studies Affiliated Faculty
Tuesday March 28
7 p.m., Science 105

Women's Studies Affiliated Faculty Edith Miguda (History), Carolette Norwood (Sociology), and Jennifer Zachman (Spanish) will give presentations on their recent research on women's lives and feminist activism internationally.

Edith Miguda, History Department/CWIL
"Women and Politics in Kenya"

This talk will focus on women's experiences in seeking parliamentary seats in Kenya. The presentation will highlight how women arrive at the decision to seek parliamentary seats, the barriers that they face in this pursuit, and ways in which those who have been elected have managed to overcome such barriers.

Carolette Norwood, Sociology Department
"Women's Status, HIV Risk Reduction Strategies and Microcredit Participation"

Microcredit is perhaps the most prominent development policy embraced today. In fact, the United Nations has proclaimed the year 2005, the year of microcredit. Microcredit advocates boldly claim that participation in the programs can effectively reduce poverty and empowerment women in the third world. Recently, promoters have also been touting the usefulness of these programs in raising awareness about HIV and AIDS, and as a means of reducing the spread of the HIV virus through prevention education. Using quantitative and qualitative methods, this study assesses the independent effects of microcredit participation on HIV prevention and risk reduction strategies, women's empowerment status and family planning attitudes and practices in Yaoundé, Cameroon. Additionally, this study evaluates local meaning and perception of women's empowerment and family planning, the usefulness of microcredit programs, and barriers to HIV prevention.

Jennifer Zachman, Spanish, Modern Languages Department
"The New Feminism(s) of Contemporary Spanish Theater:
Women's Theater Collectives in Alicante, Barcelona, Málaga and Madrid"

Since 1992, four women's theater collectives have emerged in Spain. Even more fascinating than the emergence of four women-centered collectives in fewer than ten years is their enthusiastic espousal of feminist goals and practices and their self-definition as feminists. The women of these new collectives enthusiastically embrace feminism and have incorporated feminist theory into their works and into the official constitutions.

Senior Comp Presentations by Women's Studies Minors
Tuesday March 29
4:30 p.m., Moreau 232

Five Women's Studies Minors will present overviews of their senior comprehensive projects completed within a variety of academic departments, followed by dinner in the West Wing of the Dining Hall. Please contact Professor Henry at <mailto:ahenry@saintmarys.edu>ahenry@saintmarys.edu if you need a meal ticket.

Ginger Francis, Psychology
"The Complexity of Sexual Assault: An Examination of Trauma and Coping Strategies"

Sexual violence is an on-going epidemic that plagues countries all around the world, including the United States. My literature review examines the complexity of sexual assault with a specific focus on trauma and coping strategies following the assault. Sexual assault trauma, posttraumatic stress disorder, and depression are the psychological effects examined. Factors affecting coping capabilities such as prior victimization, social support, and control are also discussed. Survivors often cope by using one or more of the following strategies: approach-oriented coping, avoidant coping, or religious coping. An examination of the psychological effects and factors affecting coping capabilities leads to useful recommendations for which coping strategies are most effective in dealing with sexual assault.

Katie Kelly, Psychology
"Attitudes and Perceptions of Sexual Risk"

My senior comprehensive researched how people define sex behaviors and their perceptions of risk through a study of Saint Mary's College students. In this presentation, I will offer information related to my research, such as the frequency of sexual health behaviors since sex definitions were not significant in risk perception.

Sarah Medina, Sociology
"(Sexual) Minority Report: A Survey of Student Attitudes Regarding the Social and Cultural Environment for Sexual Minorities"

This research project surveyed students at Saint Mary's College to examine their understanding and feelings about sexual minorities. In the survey, the respondent was asked how they would react in certain situations regarding racial, ethnic, and class minorities and sexual minorities. Factors included the number of classes that the respondent has taken dealing with minority issues, the knowledge of resources, and the availability of resources.

Stephanie Snyder, Philosophy
"A Work in Progress"

This paper focuses on the question, what is selfishness? It examines Hobbes' view of selfishness as an innate element of the human condition. I argue against this view with the philosophies of Emerson and Dewey. The final section is greatly influenced by Sarah Lucia Hoagland and Adrian Piper. Come help in the process of discovering the self through this question of selfishness.

Natasha Uffner, Sociology
"Revenge, Greed, Passion and Murder: Film Representations of Women Who Kill"

Social construction theorists find that the media socially constructs the images of individuals, including criminals. Given the media attention to several high profile cases of female murderers (e.g. Susan Smith, Andrea Yates), this study analyzes how women murderers are socially constructed in film and compares these constructs to actual statistics. Using a content analysis of eight films from the 1940s and the 1990s, this study focused on the characteristics surrounding the individual murder and the female murderer. Overall, this study found that the images constructed by films do not give an accurate representation of women murderers. Instead, films over-represent white, heterosexual, single women.

FILM: "North Country" (2005)
Thursday March 30
7 p.m., Regina 152

For our final event for Women's History Month, the Women's Studies Program and Feminists United will be screening "North Country" (2005), starring Charlize Theron. Directed by Niki Caro ("Whale Rider"), the film is a fictionalized account of the nation's first class-action sexual harassment lawsuit—Jenson vs. Eveleth Mines—where a woman who endured a range of abuse while working as a minor filed and won the landmark 1984 lawsuit. Theron was nominated for an Oscar for her portrayal of Josey Aimes, a miner working in the iron mines of northern Minnesota.

---

Feminism Meets Popular Culture

As part of the seminar "Feminism Meets Popular Culture," the Women's Studies Program will be screening three Hollywood films that attempt to (however successfully) address feminist issues and concerns. Screenings are open to the public, and all are welcome. For more information, please contact Professor Astrid Henry at ahenry@saintmarys.edu

"The Stepford Wives"
Monday January 30, 2006
7:30 p.m. - Vander Vennett Theater

As part of the "Feminism Meets Popular Culture" seminar this semester, the Women's Studies Program will be screening several films throughout the spring . Our first is the 1975 film that spawned a cultural catchphrase: The Stepford Wives.

"The Stepford Wives is about a small suburb where the women happily go about their housework - cleaning, doing laundry, and cooking gourmet meals - to please their husbands. Unfortunately, Bobbie and Joanna discover that the village's wives have been replaced with robots, and Joanna'a husband wants in on the action." (from imdb.com)

Waiting to Exhale (1995)
Sunday February 26 at 7 p.m.
Moreau 228

Based on the best selling novel by Terry McMillan, Forest Whitaker's film follows the lives of four African-American women as they try to deal with their lives and relationships. Their shared friendship becomes the strongest bond between the women as men, careers, and families take them in different directions. Often light-hearted, this movie speaks about some of the problems and struggles that modern women face in today's world. Starring Whitney Houston, Angela Bassett, Loretta Devine, and Lela Rochon as the four friends.

Thelma and Louise (1991)
Monday March 20 at 7 p.m.
Regina 152

Directed by Ridley Scott, Thelma and Louise sparked a national debate about women and violence. While some critics saw the film as "toxic feminism," others applauded it for showing women who take control of their own lives, even if they have to resort to violence to do so. Louise (Susan Sarandon) is working in a fast food restaurant as a waitress and has some problems with her friend Jimmy, who, as a musician, is always on the road. Thelma (Geena Davis) is married to Darryl who likes his wife to stay quiet in the kitchen so that he can watch football on TV. One day they decide to break out of their normal life and jump in the car and hit the road. Their journey, however, turns into a flight when Louise kills a man who threatens to rape Thelma. They decide to go to Mexico, but soon they are hunted by American police.

For more information, please contact Professor Astrid Henry, ext. 4476, ahenry@saintmarys.edu

---




Tuesday March 15
7 p.m. in Stapleton Lounge
"How Can You Tell If You're Being Militarized? Some Feminist Clues."
A talk by Cynthia Enloe addressing feminist perspectives on the U.S. invasion and occupation of Iraq

Cynthia Enloe is a Research Professor of International Development and Women's Studies who teaches Government and Women's Studies at Clark University. Her teaching and research has focused on the interplay of women's politics in the national and international arenas and how women's emotional and physical labor has been used to support governments' war-waging policies—and how many women have tried to resist both of those efforts. She is the author of nine books, including The Morning After: Sexual Politics at the End of the Cold War (1993), Bananas, Beaches and Bases: Making Feminist Sense of International Politics (2000), Maneuvers: The International Politics of Militarizing Women's Lives (2000), and The Curious Feminist: Searching for Women in a New Age of Empire (2004).


Thursday March 17
6:00 p.m. in the West Wing of the Dining Hall
"An Evening of Jewish Feminist Voices"
Featuring a poetry reading by Yosefa Raz and "Militarism, Gender, and Anti-Militarist Activism in Israel" - a talk by Rela Mazali on her feminist and peace activism in Israel

Poet Yosefa Raz grew up in Jerusalem, and served as a border guard and Hebrew teacher as part of her compulsory military service. She currently teaches world mythology at Diablo Valley College, and is an educator at Kehilla Community Synagogue, a Jewish Renewal congregation in Berkeley, Calfornia, which emphasizes spirituality through progressive political action and peace-making in the Middle East. Her writing appears in ZYZZYVA, Jewish Currents, Kerem, Margie: The American Journal of Poetry, and Glimmer Train as well as numerous online publications. Her first book, In Exchange for a Homeland, was recently published by Swan Scythe Press and, she was guest editor for the most recent volume of Bridges: A Journal for Jewish Feminists and Our Friends, which focused on writings by Israeli women on peace seeking.

Rela Mazali is an Israeli writer and feminist peace activist. A founder of the New Profile movement to de-militarize Israeli civil society, Mazali has worked for many years to end the occupation of the Palestinian territories. As former Director of Projects and Development for the Association of Israeli Palestinian Physicians for Human Rights, she planned and directed the 1993 Tel-Aviv conference on The International Struggle against Torture and the Case of Israel, attended by 450 participants from over a dozen countries, including torture survivors from Occupied Palestine. She is the author of numerous short stories, articles, and essays, including: WhaNever: A Novel (1987); Playbie Sitter , a children's book co-authored with No'a Mazali, her daughter (1997); and educational curricula on topics including peace education, children's rights, and gender equality. Her first book in English, Maps of Women's Goings and Stayings (2001) was recently published by Stanford University Press.

Friday March 18
12 noon in Madeleva 233
Maps of Women's Goings and Stayings
A reading by Rela Mazali from her new book

Monday March 21
7 p.m. in Carroll Auditorium
Film: Independent Media in a Time of War (featuring Amy Goodman, 2003)
Screening followed by a discussion led by Professor Joe Miller, Psychology


Independent Media in a Time of War presents a 2003 lecture by Amy Goodman, independent journalist and host of the popular radio show Democracy Now! As described by the Media Education Foundation, in the film Goodman "speaks about the corporate media's coverage of the 2003 Iraq War.

She discusses the way that the U.S. media downplayed civilian causalities and glorified military combat, and she asks her audience to consider the costs of coverage that is both sanitized and sensationalized. At the core of her lecture is a deep commitment to the ethics of journalism—she believes that the role of reporters is to ferret out the facts, to question those in power, and to 'go to where the silence is, and say something.' Goodman uses the concrete example of the Iraq war to ask her audience to grapple with a larger question—what impact does the commercialization and consolidation of the media industry have on journalism and democracy?"


Tuesday March 22
7 p.m. in Carroll Auditorium
"Media, Women & War: How Does the Invisibility of Women's Voices in War Coverage Shortchange America?"
A talk by Jennifer Pozner analyzing the dangers of sidelining women in war reporting.


Jennifer Pozner is founder and director of Women In Media & News (WIMN), a women's media monitoring, training and advocacy organization. Formerly, she directed the Women's Desk for the national media watch group FAIR (Fairness & Accuracy In Reporting). Her work has appeared in Ms., Newsday, Chicago Tribune, Hartford Courant, Arizona Republic, Extra!, Bitch: Feminist Response to Pop Culture, Sojourner: The Women's Forum, Salon.com, Womensenews.org, Alternet.org, TomPaine.com and the anthologies Catching a Wave: Reclaiming Feminism for the 21st Century, Points and CounterPoints: Controversial Relationship and Family Issues in the 21st Century, and Uncovering the Right on Campus.

Additionally, Pozner is involved in a variety of community organizing and media projects, including New Yorkers Say No to War and Women Leaders Online/Women Organizing for Change. Her talk will address questions such as: has the silencing of women's voices in war coverage, and the demonization of dissent, bolstered support for civil liberties rollbacks and military action in Afghanistan and Iraq? And how does war specifically impact women in America and abroad?


Wednesday March 23
5 p.m. in Haggar Parlor
"Geographies of Light: Palestinian-American Poetry,"
A reading by Lisa Suhair Majaj

Lisa Suhair Majaj is a Palestinian-American writer and scholar. She was born in Iowa to a Palestinian father and American mother, raised in Jordan, educated in Beirut and in Michigan, and is currently based in Nicosia, Cyprus. Her critical work centers on Arab-American literature and culture, particularly identity issues, the emergence of Arab-American literature over the course of the century, and how literary texts reflect shifts in Arab-American identity.

Her poetry and creative essays have appeared in numerous publications; she has published articles on Arab-American literature and culture in Postcolonial Theory and the United States, Arabs in America, Memory and Cultural Politics, Al-Jadid, Meridians, and elsewhere; and she has co-edited three essay collections: Going Global: The Transnational Reception of Third World Women Writers (2000); Etel Adnan: Critical Essays on the Arab-American Writer and Artist (2002); and Intersections: Gender, Nation and Community in Arab Women's Novels (2002).


---

---

For more information on
"Women, War, and Peace: Feminist Interventions in a Time of Conflict,"


Please contact Professor Astrid Henry, Women's Studies Program, Saint Mary's College, at (574) 284-4476.


---

Wednesday, November 17th , 2004

"Living in the Hyphen-Nation"
A One Woman Show in Response to the Sept. 11th Attacks
Performed by Dr. Laila Farah
7:00 p.m., Carroll Auditorium, Madeleva Hall, Saint Mary's College

Dr. Farah, a Lebanese-American feminist performer-scholar, has been performing this piece around the country. The show chronicles two separate autobiographical accounts of Farah's journeys to and from the Middle East "Sheherezade Don't Need No Visa: Transnational Feminism at the Border(s)", and "Stars and Stripes Forever: Sheherezade's Sequel".

Sponsored by the Center for Women's Intercultural Leadership, Intercultural Studies, Justice Education, Student Diversity Board, Women's Studies, Sociology, Philosophy, Political Science, Office of Multicultural Affairs, and SMC Peacemakers.
This event is free and open to the public.

---

Wednesday November 10, 2004




Elizabeth Shefrin:
"Stitching for Social Change: the Fabric Traditions which Created the Middle East Peace Quilt."

Wednesday November 10, 12-1 Mother Pauline Room in the Library. Elizabeth Shefrin will give a talk on the Middle East Peace Quilt entitled "Stitching for Social Change: the Fabric Traditions which Created the Middle East Peace Quilt."

People from all over the world have made squares for the quilt, and according to the project's website, the Peace Quilt "is an international community art project which brings together many individuals' visions of peace in the Middle East."

More information can be found at : http://www.vcn.bc.ca/quilt/ Panels from the Middle East Peace Quilt will be on display in the front lobby of the library from Sunday November 7 through Thursday November 11. Organized by Women's Studies, with support from Intercultural Studies, Justice Education, and the Center for Women's Intercultural Leadership. Refreshments will be served.

---

Tim Wise




"Beyond Diversity: Challenging Racism in an Age of Backlash"



Tuesday, September 28th 12:30 p.m, Stapleton Lounge. Tim Wise is among the most prominent anti-racist writers in the U.S. and has spoken on over 300 college campuses. He has trained corporate, government, teachers, medical, and law enforcement officials on methods for dismantling racism in their institutions. Wise, who has appeared on hundreds of radio and TV shows, is the author of "Little White Lies: The Truth About Affirmative Action and "Reverse Discrimination". Co-sponsored by Intercultural Studies and Women Studies.

---

Election 2004 Event

- Wednesday September 29, 2004

Iron Jawed Angels
A Film about Alice Paul and the Suffrage Movement
When: Wednesday September 29 at 7 p.m.
Where: Regina 152

SYNOPSIS: IRON JAWED ANGELS recounts for a contemporary audience a key chapter in U.S. history: in this case, the struggle of suffragists who fought for the passage of the 19th Amendment. Focusing on the two defiant women, Alice Paul (Hilary Swank) and Lucy Burns (Frances O'Connor), the film shows how these activists broke from the mainstream women's-rights movement and created a more radical wing, daring to push the boundaries of political protest to secure women's voting rights in 1920. Breathing life into the relationships between Paul, Burns and others, the movie makes the women feel like complete characters instead of one-dimensional figures from a distant past... more about this film

Visit the HBO Website: http://www.hbo.com/films/ironjawedangels/

Sponsored by Women's Studies with Co-sponsors: Feminsit United, College Democrats, College Republicans, Justice Education, Peacemakers, and the Political Science Club.

Election 2004
Voter Registration Information
& Forms will be Available at the Screening

---
| | |
| --- | --- |
| Spring 2004 | |
| | |
Celebrate Women's History Month in March 2004 !
Saint Mary's Program in Women's Studies, with support from the Center for Women's Intercultural Leadership, the Intercultural Studies Program, the Justice Education Program, and the Office of Multicultural Affairs, is proud to announce the following week-long series of events
in honor of Women's History Month.


Tuesday March 16, 2004
"Equality for All? Sexual Orientation and Human Rights"
Speaker: Widney Brown - Deputy Program Director of Human Rights Watch
7:30 p.m., Stapleton Lounge, Le Mans Hall
---

Wednesday March 17
"The Legal and Religious Debate Over Same-Sex Marriage"
Sara Tallman, SMC 2005
4:30 p.m., Welsh Parlor, Haggar College Center
---
NEW TIME!
Thursday March 18
An Evening of Poetry with Carolina Monsivais
7:00 p.m - West Wing of the Dining Hall
About Carolina Monsivais:

Carolina Monsivais is a recipient of the Premio Poesia Tejana for her book, Somewhere Between Houston and El Paso: Testimonies of a Poet (Wings Press).

Monsivais worked with the Houston Area Women's Center, where she provided services to survivors of domestic violence and sexual assault.

A dedicated advocate/activist in the field of violence against women and children, she has helped organize events to raise awareness. Her poetry has appeared in Danta, a Poetry Journal; Pennsylvania English; New Texas 2000; and Bayou Review.

Currently, she resides in Santa Teresa, New Mexico near her hometown, El Paso, Texas, where she is starting an activist women writers collective and is a writing teacher in the schools.
Book signing to follow.
---

MARCH 22-27, 2004

Film Screenings* will be held at:
Carroll Auditorium/ Madeleva Hall
Saint Mary's College

March 22 Monday: Opening Session 7 PM
Presentations: George Lopez (KROC Institute for Peace Studies) Isis Nusair, Marianne Farina. (With screening to follow.)
Film: Rana's Wedding
Directed by Hany Abu-Assad
Produced in Palestine, 2002
Running Time:90m
Format: Video
Genre: Drama
Distributor Arab Film Distribution
Distributor Website: www.arabfilm.com
Film Website: www.ranaswedding.com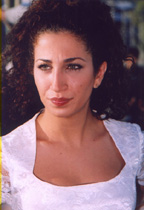 Rana wakes up one morning to an ultimatum delivered by her father: She must either choose a husband from a pre-selected list of eligible men, or she must accompany her father abroad. RANA'S WEDDING is a romantic drama about a Palestinian girl who wants to get married to the man of her own choice. With only ten hours to find her boyfriend in occupied Jerusalem, Rana sneaks out of her father's house at daybreak to find her forbidden love, Khalil. Facing barriers and occupation which have become an everyday reality, Rana overcomes her fears and doubts, deciding not to let anyone control her life. By the director of NAZARETH 2000 (HRWIFF 2001), RANA'S WEDDING was shot entirely on location in East-Jerusalem and Ramallah. Winner of the 2003 HRWIFF Nestor Almendros Prize for courage in filmmaking.
---
Tuesday, March 23- Friday, 26
Film and Discussion 7- 9PM
Tuesday, March 23, 7 PM:
Film: State of Denial
Directed by Elaine Epstein
Produced in US, 2002
Running Time:86m
Format: Video
Genre: Documentary
Distributor Website:California Newsreel
Film's Website: www.stateofdenial.org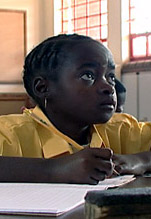 "Does HIV cause AIDS? How can a virus cause a syndrome? It can't!"
-South African President Thabo Mbeki, August 2000
Through six intimate and powerful portraits, State of Denial takes an unprecedented look at how the citizens of South Africa are living with the AIDS epidemic, given the climate of confusion and neglect perpetuated by President Mbeki's administration. Revealing conversations with dozens of South Africans adds context to these portraits, capturing the unbreakable spirit of a people determined to conduct their lives with dignity, grace, and humor. Producer/Director Elaine Epstein, a native South African who has worked extensively in AIDS and public health, offers a unique insider's look at the complex issues affecting the nearly five million South Africans living with HIV and AIDS. A film of quiet outrage, State of Denial weaves the personal with the political to create an uplifting portrait of ordinary people in an extraordinary struggle to survive. Sundance Film Festival, 2003
---
Wednesday, March 24, 7 PM
Film: War Takes
Directed by Patricia Castano and Adelaida Trujillo
Produced in Colombia/England, 2002
Running Time:78m
Format: Video
Genre: Documentary
Distributor:Women Make Movies

For over four years, three Colombian filmmakers turned their cameras on themselves, using personal stories to expose the tough reality in their violent, war-ravaged country. According to these filmmakers, Colombia has been functioning for many years in the gray area between legalism and lawlessness. Their portrayal does not aim to confirm the image the outside world has of Colombia as a hotbed of excessive political violence and drug traffic, but instead draws out the beauty and warmth amidst the larger turmoil within their homeland. The humor borders on surreal as the film moves between conversations in the jungle with guerrillas to elegant dinner parties with society's elite. War Takes allows the real lives of its heroes, forever changed by war, to break through the stereotypes, forcing us to rethink our own conceptions, or misconceptions, of the beliefs and values by which these Colombians live.
---
Thursday, March 25, 7 PM
Film: Power Trip
Directed by Paul Devlin
Produced in US/Republic of Georgia, 2003
Running Time: 83m
Format: Video
Genre: Documentary
Website: www.powertripthemovie.com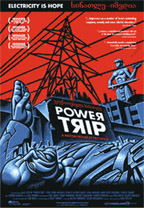 AES, an American global power company, has purchased Telasi, the ailing electricity distribution company in Tbilisi, capital of the former Soviet Republic of Georgia, from the current government. Under Soviet communism, the government paid for electricity or the cost was negligible. Local AES manager Piers Lewis must now train the entire population that in the new market economy, customers have to pay for their electricity. This means the people of Tbilisi must face the painful reality that a significant portion of their already meager income will have to go to paying their power bills. Most Georgian citizens, large companies and even the Energy Minister choose not to comply and devise ever more clever ways to obtain electricity for free. Led by Lewis, AES now decides it must teach its clients a harsh lesson by disconnecting nonpaying customers from their electricity. In an environment of confrontation, hot tempers, street rioting, pervasive corruption, and even assassination, POWER TRIP takes viewers on a rollercoaster ride as AES struggles to help build a modern nation from the rubble of the Soviet collapse.
---
Friday, March 26, 7 PM
Film: Welcome to Hadassah Hospital
Directed by Ramón Gieling
Produced in The Netherlands, 2002
Running Time:50m
Format: Video
Genre: Documentary
Distributor Netherlands Public Broadcasting
Distributor Website: www.npbsales.com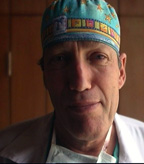 In WELCOME TO HADASSAH HOSPITAL director Ramón Gieling takes a startling, close-up look at the individuals who make up the Hadassah Hospital in Jerusalem. Filmmaker Gieling cleverly exposes the pulse of his film when he chooses as his main character the charismatic, controversial and bluntly philosophical Dr. Avi Rivkind who, along with his staff, must regularly treat those affected by, and sometimes those involved in the planning of the numerous suicide attacks which take place in Israel. In a tangible twist of irony, victims and offenders are often treated side by side. The doctors take the situation for granted and make no distinction between their patients; for the patients, the situation is more difficult to swallow. A powerful film about integrity and humanity set against the violence in Israel today.
---
March 26- 27 Friday- Saturday:
Workshop on Peace-building and Human Rights
Hesburgh Building/ KROC Institute
George Lopez and KROC Institute Partners
http://kroc.nd.edu/events/freedomfromfear.html
---
• ADDITIONAL EVENT •
April 4 Monday 7 PM
Dr. Azza Karam -
Director, World Conference on Religion and Peace
Lecture and Discussion
Carroll Auditorium/Madeleva Hall, Saint Mary's College

Sponsored by Center for Women's InterCultural Leadership at Saint Mary's College and Joan B. KROC Institute for Peace Studies at the University of Notre Dame
---

Sonia Sanchez: Carroll Auditorium Tuesday, (2/24) 7:00 p.m.
Renowned writer, poet and activist, Sonia Sanchez has been an influential force in politics and African American literary culture for over three decades. She is the author of over 16 books, including the winner of the 1985 American Book Award in poetry, Homegirls and Handgrenades, and her most recently published work; "Shake Loose My Skin". This event is sponsored by the Office of Multicultural Affairs, CWIL, and Women's Studies. For more info, contact OMA, 284-4721

CINEMAS OF GIRLHOOD a year-long film series organized by Saint Mary's Program in Women's Studies, with support from the Center for Women's Intercultural Leadership and the Office of Multicultural Affairs This series showcases films and videos by independent women directors that poignantly and provocatively capture the expectations, challenges, conflicts and triumphs that mark experiences of girlhood.
For more information on this films series, please contact Professor Astrid Henry, Women's Studies, at ahenry@saintmarys.edu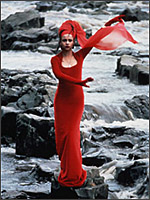 Monday February 9, 2004
Body Beautiful (1991)
a film by Ngozi Onwurah
7 p.m., Carroll Auditorium

This bold, stunning exploration of a white mother who undergoes a radical mastectomy and her Black daughter who embarks on a modeling career reveals the profound effects of body image and the strain of racial and sexual identity on their charged, intensely loving bond. At the heart of Onwurah's brave excursion into her mother's scorned sexuality is a provocative interweaving of memory and fantasy. The filmmaker plumbs the depths of maternal strength and daughterly devotion in an unforgettable tribute starring her real-life mother, Madge Onwurah.
Followed by:

Secret Daughter (1998) a film by June Cross

A producer for PBS's Frontline series, filmmaker June Cross tells the intimate story of her own experience as a black daughter coming to terms with her white mother's decision to give her away when she became "too dark to pass for white." This film takes viewers on an epic journey across the racial divide, into the hidden world of Hollywood and black vaudeville and deep into the painful, complicated relationship between an abandoned daughter and the mother who gave her away.
---

"The Edge of Each Other's Battles: The Vision of Audre Lorde"
Monday Feb. 16, 7 pm, Carroll Auditorium
Directed by Jennifer Abod, 2002
The Edge of Each Other's Battles: The Vision of Audre Lorde by Jennifer Abod documents Audre Lorde's social vision and the translation of that vision into a transnational conference which used her work, while celebrating her life. The film is a tribute to Audre Lorde's legacy of politics and poetry. Primary footage is from the four-day Boston conference, "I Am Your Sisters: Forging Global Connections Across Differences," where 1200 women and men and activist youth from 23 countries used Lorde's work to address transcultural understandings of race, gender, sexuality, and class. Interviews with organizers/scholars Jacqui Alexander and Angela Bowen are intercut with conference footage, including performances, moving and passionate speeches, and controversies. This video is not a sentimental retrospective of Lorde, but an exhortation to activism that is lifelong and joyous.
Presented in honor of Black History Month, Sponsored by Women's Studies in conjuction with the Office of Multicultural Affairs.

Additional information about this film:
http://www.jenniferabod.com/video.htm
http://www.wmm.com/catalog/pages/c621.htm
---
Wednesday April 14, 2004
5 Girls (2001)
a film by Maria Finitzo
7 p.m., Regina 152



From the production company that made "Hoop Dreams," comes this inspiring and honest portrait of five diverse girls as they bravely make their way through high school. With rare insight and sensitivity, filmmaker Maria Finitzo examines the relationships of these girls, their expectations and goals for the future, as well as those of their parents. Finitzo and her crew spent three years with this diverse group of young women and their families, who live in and around Chicago, to ambitiously document their journey from adolescence into adulthood. Leaving sentimentality behind, this unique survey delves into the minds of these five remarkable girls to demonstrate how they confront a myriad of social dilemmas - from sexual awakenings to poverty to ethnic isolation - and how they begin forming their increasingly complex identities as young women. Sensitively weaving together the stories and personalities of each girl, this provocative documentary succeeds in providing a rare glimpse into the resilience, intelligence and self-awareness that many young women confidently demonstrate, but are rarely given credit for possessing.

For more information on this films series, please contact Professor Astrid Henry, Women's Studies, at ahenry@saintmarys.edu.
---
Monday November 3, 2003
Girls Like Us (1997)
a film by Jane C. Wagner and Tina DiFeliciantonio
7 p.m., Regina 152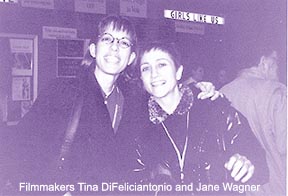 An ethnically diverse group of four working class girls strut, flirt, and testify in this vibrant, affecting portrait of teenage girls' experiences of sexuality. Filmed in South Philadelphia and following its subjects from the ages of 14 to 18, Girls Like Us reveals the conflicts of growing up female by examining the impact of class, sexism, and violence on the dreams and expectations of young girls.
Intimate interviews and candid footage introduce Anna, whose need for freedom in a new culture conflicts with her parents' strictness; De'Yona, who dreams of a singing career while coping with family tragedy; Raelene, who confronts violence and issues of self-esteem as a teenage mother; and Lisa, who faces the differences between the feminine roles of her Catholic upbringing and her own wishes.
In documenting the friendships, challenges, and triumphs of these four young women, acclaimed filmmakers Jane C. Wagner and Tina DiFeliciantonio have created something truly rare: a searingly honest, inspiring depiction of girls' experiences that provokes reaction from and dialogue between educators, parents, and young women alike.
---
Artist Amy O'Neill~ Sept 19: 3:30 pm.
The Program in Women's Studies and the Department of Art present a talk by Artist Amy O'Neill, featured in i.d./a.d. 2003, part of the "Examining Identity" series of exhibitions sponsored by the Michiana Museum Consortium O'Neill will give a talk entitled:


"Inventing my Identity: Constructing a Self Through Portraiture"
Friday September 19 - 3:30 p.m.
Moreau Art Gallery - Room 232

Followed by the opening reception for the i.d./a.d. 2003 exhibit (5-7 p.m.)
and the Guerilla Girls (7 p.m.) Free and open to the public

For more information, please contact Astrid Henry, SMC Women's Studies,
ahenry@saintmarys.edu, or (574) 284-4476
---
Jane Gallop, "Living with His Camera: The Unhappy Woman and the Empty Chair" , Tuesday April 15 , 7 p.m. , Stapleton Lounge




Third Wave Feminism - A three-day symposium, Saint Mary's College, March 24-26, 2003

Monday March 24
4:30 p.m.
Madeleva 249
"Orgasms and Empowerment: _Sex and the City_ and Third Wave Feminism" - a talk by Astrid Henry, Women's Studies and English, Saint Mary's

Monday March 24
7:30 p.m.
Madeleva 349
Krista Longtin presents her documentary: "Gloria Steinem, the Spice Girls and Me: Defining the Third Wave of Feminism" - screening followed by discussion with the filmmaker

Tuesday March 25
7:30 p.m.
Regina 152
"The Righteous Babes" (Pratibha Parmar, 1998) - a documentary on young women, feminism, and popular music, featuring Ani DiFranco and Tori Amos

Wednesday March 26
7:00 p.m.
Carroll Auditorium
"Can I Be a Feminist and . . . Shave, Love My Boyfriend, Make Money, Get Married, Be Pro-Life?" - a talk by Amy Richards and Jennifer Baumgardner, authors of _Manifesta: Young Women, Feminism, and the Future_(2000)
Monday January 27 1 p.m., Haggar 303 - A Conversation with photographer Lauren Greenfield in conjunction with her exhibit "Girl Culture" on view at Notre Dame's Snite Museum of Art, January 19 through March 9, 2003


---
Lip Service: Women Directors Engage Popular Culture
A night of short films by women directors from around the world
Monday November 11
7:30 p.m. , Regina 152
Paula Kamen, "Her Way: Monica, Madonna, and Buffy: A New Generation's Sexual Choices"
Tuesday September 10
7 p.m.
Haggar Parlor