Alpha Kappa Delta
Alpha Kappa Delta
International Sociology Honor Society
The XI of Indiana Chapter of Saint Mary's College
2012 Xi initiates include: Mariela Aguilera, Alyssa Carty, Gabrille Masini, Hilary Whitsett
---
Alpha Kappa Delta is an International Sociology Honor Society dedicated to the study of humankind for the purpose of service. The XI of Indiana Chapter of Saint Mary's College was established in 1995.
Alpha Kappa Delta traces its beginnings back to 1920 at the University of Southern California, when the chair of the department of sociology, Dr. Emory S. Bogardus, proposed to the graduate students that they form a society where the students could become acquainted with each other's research projects and where they could meet informally with the faculty and staff for suggestions and criticisms. Today, with thousands of members in over 440 chapters throughout the world, AKD is truly an international sociological honor society.
The goal and purpose of AKD is reflected in its name, Alpha Kappa Delta, which was created by Dr. Bogardus. It represents the first three letters of three Greek words:
A: Anthropon (mankind)
K: Katamanthaneion (to investigate or research)
D: Diakonesein (for the purpose of service)
Alpha Kappa Delta strives to promote the study of social issues and serve humankind, while at the same time providing an extracurricular outlet for students interested in the study of sociology.
---
Membership
The status of Life Member is conferred upon those persons who have been approved for membership by a Chartered Chapter of this society and who have paid
the initiation fee for membership. The status of Voting member is conferred upon those Life Members who maintain a current subscription to Sociological Inquiry, the official journal of the United Chapters of Alpha Kappa Delta and are affiliated with a Charter Chapter.
Eligibility for undergraduate membership is determined by the respective Chapter according to criteria that meet or exceed the following minimum requirements:
(1) Must be an officially declared sociology major.
(2) Must be at least a junior (60 or more credit hours completed).
(3) Must have accumulated the equivalent of an overall GPA of 3.3, by a four point scale, and rank in the top 35% of their class in general scholarship.
(4) Must have maintained the equivalent of a 3.3 GPA in sociology courses.
(5) Must have completed at least four regular courses in sociology at Saint Mary's College prior to initiation.
---
XI of INDIANA MEMBERS 1995-2011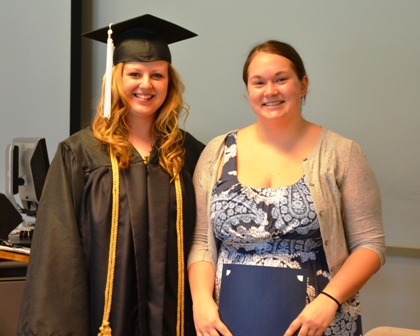 2011 Xi Initiates include: Kelly Reidenbach

2010 Xi Initiates include: Catherine Campbell, Ashley Feely, Colleen Lowry, Maura Sommers, and Mia Van Nostrand

2009 Xi initiates include: Cristen Dalessandro, Nori Drach, Carrie Erlin, Allison Meeks, Sarah Rompola, and Carly Zagaroli

2008 Xi Initiates include: Becki Faunce, Margaret Frechette, Nicole Novak, Rebecca Tease, and Monica Velarde

2007 Xi initiates include: Audrey Ballinger, Kerri Bowlby, Josephine Cohen, Alice Holohan, Sr. Stella Maris Kunihira, and Leslie Wang

2006 Xi Initiates: Sarah Medina, Natasha Uffner, Katie Dingeman, Chelsea Gulling, Laura Frechette, McKenna Keenan (missing Jessica Binhack)

2005: Shannon Allen, Erin Korreck, Denae Friedheim, Carlye Gibson, Tosha Smith, Natasha Uffner, Tabitha Rand, Jill Roberts, Katie Dingeman, and Sarah Medina.

2004: Tosha Smith, Tabitha Rand, Mandy Hayes, Courtney King, Carlye Gibson, and Jill Roberts
2003: Erin K. McDermott and Aimee Martin
2002: Erika Borowiak, Noreen Gillespie, Alyson Slaughter, and Christina Trieweiler
2001: Katie Claussen, Bridget Torsell, Melissa Hayes, Haley Moore, and David Richmond
2000: Susan Melnyk, Jennifer Chulski, Elizabeth Rossick, Corissa Coleman, Julie Semancik, Julie Gerchman and Crystal McMillan
1999: Meghan Harrison and Candice Janiczek
1998: Andrea Bueno, Kristin Donahue, Mariana Rodriguez and Amanda Wozniak
1997: Betsy Connolly, Tina Hajtek, Danielle Hawkins, Allison Koenig, Chiara Marcheschi, Jessica McManus, Catherine Schaub and Melissa Thatcher
1996: Amy Cavanuagh, Danielle DeMatteis and Jennifer Farley
1995: Felicia Coleman, Susannah Drumm, Melinda Lerch, Nancy Mulcare, Julie Peterson, Maryse Pflum, Alison Sciaudone and Deborah Sheedy