Academics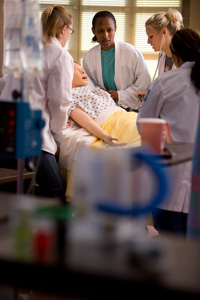 When Discovery Becomes Wisdom
The academic journey at Saint Mary's is about discovery. It's about digging into a topic and pushing boundaries. It's about challenging yourself, surprising yourself, and opening yourself up to even the most unexpected and unimaginable ideas.
Together, our more than 30 majors, opportunities to lead and travel the world, extensive hands-on learning, exceptional faculty, and 10:1 student-to-faculty ratio combine to form an academic experience that simply cannot be matched.
This is why you'll find Saint Mary's alumnae achieving their professional dreams at places like Google, Disney, MSNBC, the Peace Corps, the U.S. Congress, and Hollywood, among many others. Because it's not about landing that dream job after you graduate. It's about being prepared to thrive in it.
"Saint Mary's is about learning to live life with passion and empathy, authenticity and a sense of adventure."
— Adrienne Huschke '16