Academics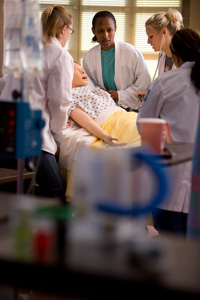 We empower women to change the world.

Explore endless possibilities for your future after four years in our academically challenging, supportive community. We challenge and encourage students and develop into confident leaders who are well educated and well prepared for life. Graduate from Saint Mary's College with the creativity, knowledge, abilities, and confidence you need to make a difference in this ever-changing world.
Saint Mary's College:
employs nationally recognized faculty members who believe in teaching first
rigorous academics with six nationally accredited programs and more than 30 majors
ranks among the top Best National Liberal Arts Colleges for 2015 published by U.S. News.
develop close working relationships between faculty and students with a student-faculty ratio of 10:1
a wealth of opportunities for real-world experiences through internships, study abroad, and hands-on learning
provides a strong spiritual foundation and a focus on social responsibility
No matter what major you choose, our top-ranked liberal arts education will give you a broad and deep foundation of knowledge.
In your four years here, you'll develop:
strong quantitative skills
the ability to analyze complex issues
competency in modern languages
excellent writing and communication skills
Imagine receiving an education from an institution that does all that.
Majors
Accounting
Art with concentrations in art history and studio art
Biology with concentrations in cellular/molecular biology; ecology, evolution, and environmental biology; and integrative biology
Business Administration with concentrations in accounting, finance, international business, management, management information systems, and marketing
Chemistry with an optional concentration in biochemistry
Communication Studies
Communicative Sciences and Disorders
Computing and Applied Mathematics
Economics
Elementary Education
English Literature
English Writing
Gender and Women's Studies*
Global Studies with concentrations in anthropology, gender and women's studies, global business administration, intercultural studies, international development, international higher education administration, and modern European culture
History with an optional concentration in women's history
Humanistic Studies
Management Information Systems
Mathematics with an optional concentration in teacher education
Music
Music Education
Nursing
Philosophy
Political Science
Psychology
Religious Studies
Social Work
Sociology
Spanish
Statistics and Actuarial Mathematics
Student-Designed major
Theatre
*New for 2014-15; detailed information will be available soon.
Minors
American History
Anthropology
Art History
Biology
Business Administration
Chemistry
Computer Science
Dance
Early Childhood Education
Economics
English as a Second Language/Bilingual Bicultural Education
English Literature
English Writing
European History
Film Studies
French
Gender and Women's Studies
Global Studies
History
Humanistic Studies
Intercultural Studies
International Studies
Italian
Justice Studies
Latin American Studies
Mathematics
Mathematics/Computer Science
Music
Philosophy
Political Science
Psychology
Public Communication
Public Relations/Advertising
Reading Education
Religious Studies
Secondary Education
Social Work
Sociology
Spanish
Studio Art
Theatre - Performance
Theatre - Production
Third World History
Women's History
Dual Degree Program in Engineering
In addition to completing a Bachelor of Arts or Bachelor of Science degree from Saint Mary's College, students also earn an engineering degree in chemical, computer science, electrical, environmental, environmental earth sciences, or mechanical engineering from the University of Notre Dame.
Pre-Professional Studies
Saint Mary's College offers advising designed to assist students preparing for law school, medical or dental school, and other allied health programs.
Primary or Secondary Education Certification
Art
Biology
Chemistry
English as a New Language and Bilingual Bicultural Education
English Literature
English Writing
French
History
Mathematics
Music
Political Science
Psychology
Sociology
Spanish