Visit Campus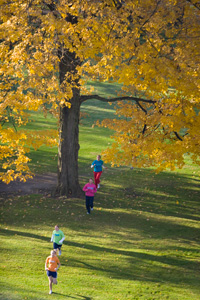 A campus visit should be as unique as you are. We'll tailor your visit to your interests. Here are some things you might include in your scheduled visit:
take a guided tour
meet with an admission counselor
attend a class or meet individually with a professor
talk with a coach or attend a sporting event
eat at one of the on-campus locations
connect with campus ministry
spend the night in a residence hall (limited to high school seniors; must be arranged with the campus visit coordinator at least two weeks in advance)
shop at the bookstore
Explore our campus with other curious students during our on-campus event programs. Attend daylong events filled with activities for you and your family.
Accepted student? Consider attending Meet Me at The Avenue in March, a special opportunity designed just for you.
Contact one of our campus visit coordinators at 800-551-7621 or campusvisit@saintmarys.edu to plan your visit. 
If your schedule will not allow for a campus visit, take a peek at our beautiful green areas, classrooms, residence hall rooms and social spaces by taking a virtual tour.
Virtual Tour
A little taste of what awaits you on our campus.