Human Resources

Welcome!
You've reached the website for Human Resources at Saint Mary's College. This information will be updated on a regular basis. Check it regularly for the most up-to-date information.
EMPLOYMENT OPPORTUNITIES
The employment objective of Saint Mary's College is to select and retain personnel with high standards of performance and appropriate experience, education and training. In addition, Saint Mary's College strives to hire employees committed to contributing to the continued excellence of the institution. All positions at Saint Mary's College require a commitment to Catholic higher education and the College's mission and values. Saint Mary's College is an equal opportunity employer and is committed to diversity.
EQUAL OPPORTUNITY POLICY STATEMENT
Saint Mary's College, founded and sponsored by the Sisters of the Holy Cross, an order of the Roman Catholic Church, was chartered as an institution for women as a Catholic witness in higher education. It has continued to adhere to that focus and mission. As a Catholic institution, the College reaffirms its mission and philosophy which call for a modeling of social justice and Christian principles in our personnel policies and practices.
All College policies, practices, and procedures are administered in a manner consistent with our Catholic identity. With the foregoing understanding, Saint Mary's College will not engage in discrimination based on sex, race, color, national origin, religion (except where religion is a bona fide occupational qualification), age, disability, citizenship status, genetic information, veteran status, or any other characteristic protected by law. Based on our Catholic values, the College also prohibits discrimination based on sexual or political orientation.
In the areas of undergraduate admission, academic year housing, and varsity athletics, Saint Mary's College will remain exclusive in respect to sex, but not as to any of the other above-mentioned characteristics.
Benefits Information
Retirement Plan
Tuition Remission
Our Tobacco-Free, Smoke-Free Campus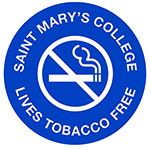 In November 2020, the College took an important step in advocating for the health and well-being of our campus community by becoming 100 percent tobacco and smoke free. This means the use of tobacco or tobacco-related products (such as vaping and snuff) is prohibited on any Saint Mary's or Sisters of the Holy Cross property, including inside any vehicle.
We are proud to be part of this national movement to address smoking and tobacco use at college campuses. We are supportive of faculty and staff who desire to quit using tobacco products. Smoking cessation tools and resources are available through the human resources department and from the employee portal.
PRISM for Employees 
Saint Mary's College has a secure web site called PRISM.  Through this site, you can view your own personal information related to benefits and deductions, pay, tax exemptions, current and past jobs, and vacation and sick leave balances, if applicable.  The College does not issue pay stubs.  This can also be accessed through PRISM, typically the day before your pay is deposited into your account. See a list of the information that can be viewed and updated through PRISM.  Password and further log-in information is typically given on first day of employment. A detailed screen shot of how to look up your pay information.
INTEGRITY POLICY
Reports of improper conduct may be made to the appropriate College official or to an independent, third-party hotline.  Please click on a link below to view more information:
Question and Answers for Employees
Question and Answers for Managers
How to File a Report