Ready. Set. Move In!
Our five residence halls each have their own unique character that continue to develop each fall as new Belles move in. We require all students live on campus for their first six semesters, which helps ensure that you get the most out of your college experience! (Exceptions are made for students with permanent residence already in the local area.) Undergraduate housing at Saint Mary's is available for students between the ages of 17 and 24 years.
Learn about each of the halls!
What's Included?
Choose the type of room that fits you best: single, double, triple, or quad. Whichever hall and room type you prefer, you can expect the following amenities:
Standard twin bed (not extra long)
Dresser
Wardrobe or closet
Desk and chair
Secured residence areas
Staffed front desks
High-speed internet & campus-wide WiFi
Cable access 
Access to a chapel or worship space
FREE Laundry facilities
Ice machines
Mail service
Smoke-free environment
Our Tobacco-Free, Smoke-Free Campus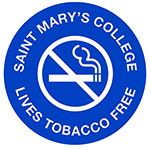 In November 2020, the College took an important step in advocating for the health and well-being of our students, faculty, and staff by becoming 100 percent tobacco and smoke free. This means the use of tobacco or tobacco-related products (such as vaping and snuff) is prohibited on any Saint Mary's or Sisters of the Holy Cross property, including residence halls, academic buildings, all grounds, and inside any vehicle. We are proud to be part of this national movement to address smoking and tobacco use at college campuses, and to create a culture where our students can reject tobacco and be free from secondhand smoke.
FAQs
+What are the housing options offered by SMC?
Saint Mary's College has five residence halls. McCandless Hall and Regina Hall are first-year only housing. LeMans Hall and Holy Cross Hall are open to upperclass students. Opus Hall is apartment-style housing for seniors only.
+What comes in the room?
All rooms have beds, dressers, closets or wardrobes, desks, chairs and blinds. Beds are regular twin-sized (not extra long) on a three foot adjustable bed frame. Students can opt to purchase a loft kit for the year, which will make the bed approximately 5ft tall.
+When is Room Selection?
Room selection for first year students is June 2 & 3, 2020. Students who have confirmed attendance with their deposit will receive information via their Saint Mary's College email.
+How do I select a roommate(s)?
All students, both new and returning, have the opportunity to choose their roommate(s) and go through the housing lottery process to select their own room.
+Am I required to have a meal plan?
Yes, all students living on campus are required to have a meal plan.
+What are my meal plan options?
New this year! Notre Dame's Campus Dining Meal Plan offers Saint Mary's students expanded options within the tri-campus community. The cost to the student is $2,560 each semester for a total of $5,120 per academic year.
Returning students receive 15 meal swipes per week plus $250 in Flex Points each semester. This plan ensures sufficient meals for all students with the built-in options, increasing the number of Flex Points (formerly Munch Money) that were previously offered under the Sodexo plans. 
New/Incoming students have a choice between two plans. They may receive 19 meal swipes weekly plus $100 in Flex Points each semester OR 15 meal swipes per week plus $250 in Flex Points each semester.
Additional Flex Points can also be purchased by all students.
You can find additional information and FAQs on the Dining on Campus page.
+How do I connect to Wifi?
All residential areas on campus have access to the campus wifi, Resnet. Students are able to register up to four different devices on the campus wifi system.
+What is my mailing address?
All students living on campus will receive their individual mailing address in early July.
+May I stay in my hall during College breaks? May I come back early or stay late?
The residence halls remain open during all College breaks except for winter break. Students are not permitted to remain in their residence hall during winter break. Students who wish to return early or stay late on campus, must complete a request for this accommodation. Information is sent out to your Saint Mary's email address.
+Can I have Visitors or Overnight Guests?
Guest policies and visitation hours were established to provide a safe and respectful environment for all who live in the residence halls. Because of this, please communicate with your roommate(s) when you plan to have visitors.
Visitation hours are: Sunday to Thursday, 10 a.m.–midnight, Friday and Saturday, 10 a.m.–2 a.m.
Before having an overnight guest, students must receive permission from their roommate to host the guest however, students are not permitted to have overnight male guests.  All overnight guests must be female and at least 5 years old.
+Are pets allowed in the residence halls?
No pets are allowed are allowed in residential halls other than fish in tanks 30 gallons or less. Approved service and emotional support animals are allowed. Students must contact the Disability Resource Office and follow all regulations for the accommodation.
+What if I need a housing accommodation?
+How does the College supervise the residence halls?
The Office of Residence Life carefully selects student leaders to be resident assistants (RAs) for each residence hall.  The primary role of an RA is to assist in creating a living-learning experience for all residents. RAs help promote acceptable standards of living, community responsibility, and group interaction within the residence hall.  They serve as a liaison between students and the College administration and share directly in the responsibility of upholding College policies and regulations. RAs serve a part of an on-call rotation, wherein each area of campus has at least two RAs on-duty every night of the week. While they enforce policies in the halls, students are expected to be considerate of one another, respect public and private property, and practice self-discipline. College policies are in place for the growth, development, and protection of all students and to provide an atmosphere that has a positive role in the student's total educational experience.
In addition to RAs, each Residence Hall has a residence hall director. This individual is a live-in, professional staff member who coordinates and supervises the overall operation of the hall. The general mission of the Hall Director is ensuring the security of the hall, its residents, and guests, as well as the maintenance and cleanliness of the facility. Hall Directors also serve as judicial hearing officers in conduct hearings for code violations.
+What kind of security is there?
Campus Safety is located across from Holy Cross Hall. The department operates 24 hours a day, 365 days a year. Please visit the Campus Safety web page for more information regarding the services provided through their office.
Each hall has a resident assistant on call every night starting at 8 p.m.. There is also always a hall director on call 24 hours a day for emergencies. In the case of an emergency situation, please contact Campus Safety at (574) 284-5000.