Reunion 2021: Outstanding Young Alumna
Chisom Adaana Igwe, Class of 2017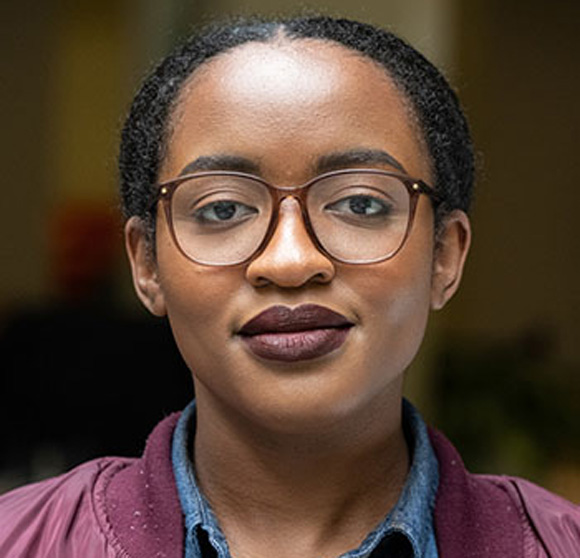 The Outstanding Young Alumna Award honors an alumna who, within 15 years of graduation, exhibits leadership not only in her personal and professional accomplishments but also in her involvement with the Alumnae Association or the College directly. This year we honor Chisom Adaana Igwe, Class of 2017, for her professional achievements, volunteer work, and continuing commitment to Saint Mary's College. 
After earning her undergraduate degree in computer science at Saint Mary's, Chisom became a proficient software engineer, reaching a senior level position (Level III) at Reddit Inc, an online social discussion platform. Both as an international student and during her professional career, Chisom has accomplished her goals despite cultural differences and economic setbacks. She has boldly created a path for herself in the software engineering field as a woman, and as a woman of color. Her interest in engineering started at Saint Mary's pursuing a STEM degree, also a courageous step for a woman of color. Chisom consistently overcame her doubts about fitting in while also uplifting fellow Belles who were pursuing degrees in computer science. She never let her age, gender, nationality, or other forms of identity stop her from achieving her highest goals. Currently, Chisom is working in Ireland at Reddit. 
Chisom has remained connected to the Saint Mary's community through various workshops and discussion panels in computer science. In October 2020 she participated in both the math department's STEM workshop and the AfterMATH virtual discussion. During both events she gracefully encouraged and inspired students about her career path, the setbacks and successes, and the help she received along the way. As a volunteer for Reddit's AfroTech conference, the largest multicultural tech conference in the nation, Chisom recruits students of African descent by helping them realize their potential in the tech industry.
A beacon of motivation and accomplishment in her career, Chisom is also that for her family. Through her hard work and dedication to excellence, she has been able to fund the education of her five younger siblings, ensuring that they receive the best educational opportunities possible. She has even helped to support her larger family in her home country of Nigeria. 
Chisom is planning to return to graduate school to further her engineering expertise, and continue her commitment to support other women and people of color in their education and professional goals as computer scientists.
Because of her leadership, courage, demonstration of the ideals, values and mission of Saint Mary's College, the Alumnae Association proudly presents the 2021 Outstanding Young Alumna Award to Chisom Adanna Igwe, Class of 2017.