Six Saint Mary's Teams Earn MIAA Academic Recognition
FREELAND, Mich. - Six of the Saint Mary's varsity programs were recognized by the Michigan Intercollegiate Athletic Association (MIAA) for their outstanding academics during the 2014-15 year.
The Belles basketball, cross country, soccer, softball, tennis, and volleyball teams were all named to the 2014-15 MIAA Team GPA Award honor roll for posting collective 3.300 GPAs or above for the past academic year.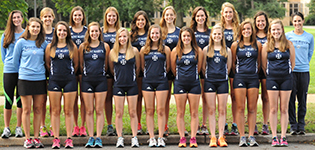 The cross country team earned their 14th MIAA
Team GPA Award honor.The volleyball team led the way for Saint Mary's programs with a 3.549 GPA followed closely by the tennis team with a 3.510. The cross country team (3.447) and basketball team (3.421) both posted GPAs above a 3.4. The soccer team (3.336) and the softball team (3.326) rounded out the Saint Mary's honorees.
Additionally, the cross country team has earned the MIAA Team GPA Award more than any other Saint Mary's program as the squad garnered their 14th honor while the volleyball team has made the list 13 times. The soccer program picked up their seventh MIAA academic recognition. The basketball and tennis teams each increased their all-time tally to five, and the softball team made the list for the second time.
The six programs are part of 77 women's and men's teams across the MIAA to be named to the honor roll for the 2014-15 academic year.