Bourbonnais Selected for Emerging Leaders Seminar
NOTRE DAME, Ind. - Saint Mary's College assistant athletic trainer and Niles, Michigan native Katie Bourbonnais is one of 226 interns and graduate assistants from all levels of NCAA members to participate in the 2016 Emerging Leaders Seminar.

A group which includes participants from each of the national body's three divisions represents 165 schools from nearly 60 different athletic conferences from across the United States. According to the NCAA Leadership Development Office, the Emerging Leaders Seminar provides educational and transitional programming for NCAA graduate assistants and interns who have shown a profound interest in pursuing a career in college sports. Participants gain knowledge, leadership awareness, a broadened perspective of intercollegiate athletics, and valuable insight that helps them structure the next steps for their careers.
"The Emerging Leaders Seminar is a wonderful opportunity for young professionals working in athletics to come to the national office, form a network of like-minded peers and develop knowledge of the college sports industry at all levels," said Bernard Franklin, NCAA executive vice president of education and community engagement and chief inclusion officer.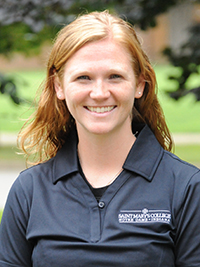 Katie BourbonnaisBourbonnais was selected to participate in the seminar as part of the NCAA Ethnic Minority and Women's Internship Grant. She has attended one seminar already during her internship and hopes to learn even more this weekend.
"In the previous seminar we learned about our characteristics with how to approach people and how they may respond to a certain situation," said Bourbonnais. "In this seminar I believe it's more about using and learning how those characteristics come be used to be a more confident leader and voice in the crowd if needed."
She is also excited to meet and network with new people while also anticipating the opportunity to catch up with other Ethnic Minority and Women's Internship Grant cohorts. As one of only four athletic trainers attending the seminar, she looks forward to learning more about athletic departments across the country in many ways.
"I love meeting new people from across the United States and learning new ways on how to do tasks differently," she added. "Learning about other schools' athletic departments through other job positions will be exciting to learn."
Additionally, she is just one of two representatives from the Michigan Intercollegiate Athletic Association attending the event. A 2013 Alma College alumnus and volleyball player for the Scots, Bourbonnais is no stranger to representing the MIAA on a bigger stage.
"I have learned that being from a small school and conference like the MIAA gives you opportunities that bigger places don't always have. If I am able to bring back ideas to always make improvements so student-athletes get more out of their experience, this experience would be very gratifying. I hope any new and exciting ideas and issues I learn of we can help implement at Saint Mary's and make an already great school into a stand out school in the MIAA and beyond."
This year's NCAA Emerging Leaders Seminar takes place Wednesday through January 29 at the NCAA national office in Indianapolis.