Belles Soar Past Ravens
Submitted by

smiesle

on
Box Score

NOTRE DAME, Ind. - The Saint Mary's basketball team held off a determined Anderson squad for a 77-57 victory on Tuesday night.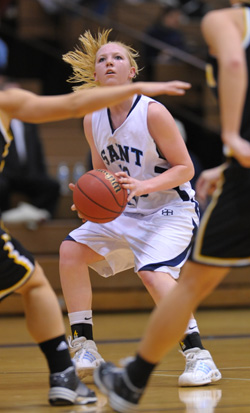 Jessica Centa looks for a shot in a game
last season. The senior was 6-of-6 from the
floor against Anderson.The Belles came out of the gate on fire to turn a one-point deficit at 10-9 into a 32-14 lead in less than a ten-minute span in the first half. During that 23-4 run, the Belles hit 10-of-13 shots from the floor. Jessica Centa was a one-person wrecking crew when it came to scoring points against the Ravens' defense in the first half. The senior forward was a perfect 6-of-6 from the floor and 4-of-4 from the charity stripe in the first half. On two occasions, Centa has as many points (14 and 16) as Anderson had as a team in the opening 20 minutes of play.

For the first half, the Belles shot a blistering 60.0 percent from the floor while building as much as a 20-point lead against the Ravens.

Just minutes into the second half, Saint Mary's pushed their lead to 25 on a pair of free throws by Maggie Ronan. Some quick foul calls against the Belles allowed Anderson to chip away at the lead with the clock stopped. The Ravens cut the lead to 15 points at 10:44 and 7:49 and got as close as 14 points at the 6:20 mark in the second half, but the Belles continued to respond with points. With the game at 64-50, Saint Mary's put seven straight points on the board to push their lead back to 20 points with three-and-a-half minutes remaining in the contest.

The Belles finished the contest with a 52.7 percent shooting percentage to Anderson's 47.7 clip while shooting seven more free throws than the Ravens in the win.

Patsy Mahoney was just a bucket off of her career-high of 23 with a 21 point outpouring, which included 14 in the first half. She also added a game-high five assists and three rebounds for Saint Mary's. Kelley Murphy saw 11 of her 19 points come in the second half to help the Belles maintain the lead. Jessica Centa, meanwhile, finished the victory just a point behind her career high of 18 with a 17 point effort. The senior was perfect from the floor (6-of-6) and missed her first free throw of the 2011-12 campaign in the second half for a 5-of-6 showing from the line.

The Belles (2-2) will travel to Ohio Northern for the Polar Bears' Thanksgiving Classic on Saturday and Sunday. Saint Mary's will square off against the hosts from Ohio Northern in the first game of the tournament on Saturday, November 26 beginning at 4:00 p.m.