Mahoney's Milestone Helps Belles Beat Bluffton
Box Score

WESTERVILLE, Ohio - Patsy Mahoney scored her 1,000th career point early in the second half and all five Saint Mary's starters tallied at least 10 points apiece as the Belles defeated Bluffton University 68-57 in the Otterbein Smokey Ballenger Classic on Thursday afternoon.

The Belles established their play in the paint against the Beavers early on by scoring 14 of their first 17 points in the paint. Leading by two points at 15-13, Maggie Ronan completed a three-point play after a made layup and free throw to start a 16-2 spurt for Saint Mary's over the next six minutes of play. With less than four minutes to go before halftime, Patsy Mahoney gave Saint Mary's the biggest lead of the game with a pair of free throws to push the Belles' advantage to 37-19. Of the Belles' 39 first half points, 22 came from inside the paint.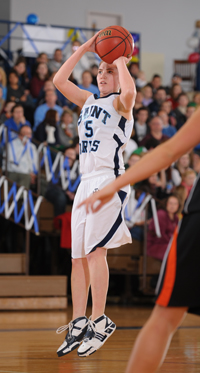 Patsy Mahoney scored her 1,000th
career point in the Belles' win over
Bluffton.Saint Mary's came out of the break to score the first two buckets of the second half. Shanlynn Bias hit a jumper just over 30 seconds into the period, and Patsy Mahoney tallied her 1,000th career point on a layup a minute later to give Saint Mary's a 15-point lead. Bluffton, however, cut the lead to seven points on a second-chance bucket, a three pointer, and a layup off a Saint Mary's turnover. 

The Belles stopped the Beavers' run with six straight points of their own, but Bluffton made another push for the lead by capitalizing on called fouls and trips to the free throw line. The Beavers once again got within seven points, but the Belles responded with nine consecutive points to pull away for good.

All five of the Belles' starters scored at least 10 points in the win. Maggie Ronan led the way with 17 points along with four assists. Shanlynn Bias matched her career-high with a 14-point effort and a game-best three steals. Patsy Mahoney, Kelley Murphy, and Jessica Centa each added 10 points of their own. Mahoney joins fellow senior Kelley Murphy as a member of the 1,000+ point club. The pair became the first classmates to score 1,000 points in a career in program history. For the game, the Belles out-scored Bluffton 42-28 in the paint.

The Belles (5-7) will open up 2012 by returning to conference play when they travel to Adrian for a 6:00 p.m. contest against the Bulldogs on January 4.