Belles End Season With Loss to Knights
Box Score

GRAND RAPIDS, Mich. - The Saint Mary's basketball team lost in the semifinal of the MIAA Tournament to top-seeded and fifth-ranked Calvin by a 78-50 final on Thursday night.

The Knights scored on five of their first seven possessions of the game and never relinquished the lead. The Belles battled back to within six points on a good three-pointer by Patsy Mahoney, but Calvin went on a 10-3 run and would lead by double-digits the remainder of the contest.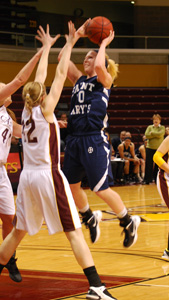 Jessica Centa goes up against
two Calvin defenders in the
MIAA Semifinal game on
Thursday.Saint Mary's did not go down without a fight, however. The Belles got back-to-back baskets after forcing a few Calvin turnovers thanks to strong pressure on defense. Jessica Centa had consecutive buckets just two minutes into the half to get the Belles within 17 points of the Knights. Just a few minutes later, Shanlynn Bias grabbed the offensive board on her own missed attempt and powered home a basket. Centa then followed up with a steal on Calvin's next possession, which turned into a good three-pointer by Maggie Ronan from the right side of the floor in front of the Belles' bench to trim the lead down to 14 with 15:04 left.

Annie Doyle got Saint Mary's back within 14 just a few possessions later with a layup at the 11:01 mark, but Calvin used a 9-2 scoring spurt to push their lead to 21 with just over nine minutes remaining. The Knights held at least an 18-point advantage over the remainder of the contest.

Saint Mary's held a 14-7 advantage on second-chance points while out-rebounding the Knights 43-40 on the evening. Both teams made 63 shot attempts from the floor, but the Calvin connected on 30 of those efforts while the Belles hit 19.

Kelley Murphy and Jessica Centa led the Belles with 10 points apiece. Patsy Mahoney picked up her 100th assist of the season, the most single-season helpers of her career and just the fifth overall occurrence of 100+ assists in a season by a Belle. Maggie Ronan, meanwhile, added five points to surpass the 900 career-point plateau. Fellow senior Katie Sullivan also chipped in five points for the Belles in her final game of her career.

The Belles finish the year 13-13.