Clock Runs Out on Late Rally for Belles
Box Score

NOTRE DAME, Ind. - Trailing by eight points with just over a minute and a half to go in the game, the Saint Mary's basketball team's attempt at tying the game with 12 seconds to go was just barely off the mark as the Belles fell 77-73 at home against #17 Hope on Saturday.

The Belles were searching for their first win over the Flying Dutch since Saint Mary's took down then-ranked #1/#3 Hope on January 3, 2009 at home. The Belles were up to the task early as they had a response for everything Hope did. Saint Mary's used an 11-0 run to force the Flying Dutch into a timeout. Ariana Paul tied the game at 18-18, then blocked a shot on Hope's next possession, leading to a pair of Kelley Murphy free throws. Katie Sullivan, Patsy Mahoney, Maggie Ronan, and Murphy all picked up buckets during the next two minutes of play to lift Saint Mary's to a 29-20 lead.

With 1:56 to go before the end of the first half, the Belles took the largest lead of the game to that point with a second-chance bucket by Murphy for a 36-26 advantage. Over the first 20 minutes of play, Saint Mary's made 14-of-15 free throws while limiting Hope to just one made free throw on one attempt in the opening half.

The Flying Dutch opened up the second half in a big way with a 21-1 run over the first five minutes to turn the nine-point deficit into an 11-point lead. During that run, Hope made four of their five three-point shot attempts and scored points on all nine of their possessions. Allie Cerone hit one of her three three-pointers to give the Flying Dutch a 15-point advantage with 10:37 left in the second half.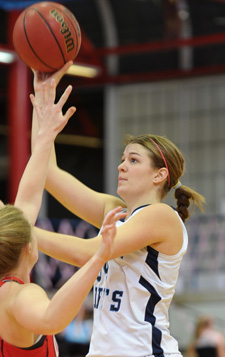 Kelley Murphy had game-highs for
points (20) and steals (3).The game was hardly a done deal at that point, however. With Hope leading 67-53 on another three by Cerone with 8:19 left, the Belles dug in their heels and chipped away at the Flying Dutch. An 11-3 spurt by Saint Mary's cut the lead to just six with 3:14 left on the clock. The teams then traded baskets with Hope going up 74-66 with 1:34 remaining. Maggie Ronan then hit a three-pointer from right in front of her own bench after a touch-pass by Ariana Paul to cut the lead to five. Hope responded with a layup with just over a minute left. Kelley Murphy drove hard to the bucket and banked in a layup with :52 remaining. The senior then forced a turnover on the full-court press and drained a jump shot with 40 seconds left in the game to get Saint Mary's within 76-73.

After a pair of fouls whistled against the Belles, Hope missed the front end of a one-and-one opportunity, giving Saint Mary's a chance to tie the game. The Belles called a timeout with 14 seconds left in the contest. On the ensuing in-bounds play, Patsy Mahoney got off a shot in coverage from 25 feet away at the top of the key. The senior's shot looked good, but hit the inside back of the rim and bounced away. Hope added a free throw with nine seconds left to take the 77-73 decision.

Kelley Murphy had game-highs for both points (20) and steals (3) while hitting all four of her free throw attempts. Maggie Ronan added 16 points and a pair of assists. Patsy Mahoney had 13 points and matched her career-high with eight assists for the Belles.

Saint Mary's (9-11, 5-6 MIAA) travel to Albion for a big MIAA match-up against the Brits on Wednesday, February 1 beginning at 6:00 p.m.