Mahoney's Career-High Helps Belles Down Comets
Results

OLIVET, Mich. - Senior Patsy Mahoney scored a career-high 29 points, including seven of the Belles' last eight points, to help lift the Saint Mary's basketball team to a 59-55 win at Olivet on Saturday.

With the game tied 9-9 with over 16 minutes remaining in the first half, the Belles were plagued with a few turnovers while the Comets could not capitalize on the Saint Mary's miscues over that same span. Nearly four minutes later, Shanlynn Bias broke the drought with a pair of free throws. Olivet tied the game up on their next possession. Saint Mary's regained the lead and was later up 14-13 after a pair of good free throws by Olivet's Kelsey Campbell before going on a 13-3 run to take an 11-point lead three minutes before the half.

Leading 33-23 at the break, the Belles took their largest lead of the afternoon at the 13:09 mark in the second half. Jessica Centa made a layup to put Saint Mary's up 44-26.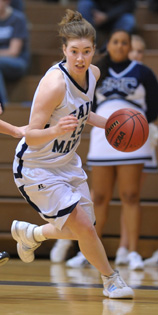 Patsy Mahoney scored a
career-high 29 points in the
Belles' 59-55 win over Olivet.Saint Mary's continued to hold a double-digit lead until late in the second half. The Comets got back-to-back layups to cut the lead to seven points with 3:51 remaining in the contest. After a pair of turnovers by the Belles and a couple of made buckets by the Comets, Saint Mary's was clinging on to a three-point lead of 57-54 with 13 seconds remaining. Patsy Mahoney wrapped up the win while capping off a big offensive day with a pair of free throws with 11 seconds to go in the contest.

Olivet made five more shots from the floor (23) than Saint Mary's (18), but the Belles continued to find success at the charity stripe as they made 22-of-30 attempts from the line to the Comets' 8-of-14.

Patsy Mahoney led all players with 29 points by hitting 14-of-17 free throws on the afternoon. The 14 made free throws is also the third-most all-time in program history in a single game. With the 14 made free throws, Mahoney has made more than 100 free throws this season, which is also the second time she has done so in her career. Jessica Centa added 10 points and nine rebounds and Kelley Murphy pulled down 14 rebounds and scored nine points for the Belles.

Saint Mary's (11-11, 7-6 MIAA) returns home to host Adrian on Wednesday, February 8 at 7:30 p.m. It will also be the Belles' Think Pink game to help raise awareness of and funds for the fight against breast cancer.