Belles Roll Comets
Box Score

NOTRE DAME, Ind. - Kelley Murphy had her nineteenth double-double as the Belles took the lead early and never looked back against Olivet on Saturday.

Saint Mary's scored the first eight points of the game and held the lead the entire duration of the contest on their way to the win. Olivet chipped away and got within two points of the Saint Mary's advantage early in the first half. The Belles, however, used a 9-0 run to turn a 10-8 lead into a 19-8 cushion. Saint Mary's then closed out the first half with six of the final eight points of the opening period to go up 33-20 at the break.

The Belles led by as much as 19 in the second half while having at least a double-digit advantage over the entire second 20 minutes of play.

Saint Mary's out-shot the Comets from the floor 46.3 percent to 36.9 percent. The Belles also hit 17 of their 22 free throws while sending Olivet to the line just nine times.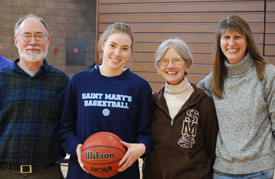 Patsy Mahoney was given the game ball with
which she scored her 1,000th point before the
start of the Belles' win.Kelley Murphy led all players with 15 points and 10 rebounds for the nineteenth double-double of her career. Patsy Mahoney added 12 points and Maggie Ronan had 11 for the Belles. For Mahoney, it was the 55th game of her career with at least 10 points. Ronan, meanwhile, notched her 40th career contest with at least 10 points.

Next up for Saint Mary's (6-8, 2-3 MIAA) will be Albion on Wednesday, January 11. Tip-off is slated for 7:30 p.m. at Angela Athletic Facility.