Belles Thwart Thunder
Box Score

NOTRE DAME, Ind. - The Saint Mary's basketball held off a late surge by visiting Trine to avenge an MIAA loss earlier this season as the Belles defeated the Thunder 59-48 on Wednesday evening.

With the game tied at 7-7 barely three minutes into the game, Saint Mary's went on a 10-1 run to snag a 17-8 advantage 13 minutes before the half. During that span, the Belles scored points on five of their eight possessions. The Thunder kept close, edging back to within three points of the lead on a good three-pointer with 7:02 left in the half. Saint Mary's responded right back by going on a 10-2 run over the rest of the half to take a 33-22 lead to the locker room.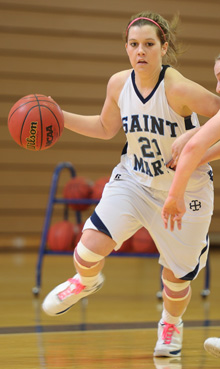 Maggie Ronan had a team-high 18
points in the Belles' win on Wednesday.The Belles put the pedal to the metal over the first ten minutes of the second half. Saint Mary's out-scored Trine 20-7 for the biggest lead of the game at 53-29. After the Thunder scored on their next possession, Maggie Ronan regained the 24-point advantage back for the Belles two possessions later on a hesitation move layup with 8:25 remaining.

The offenses then had a bit of a role reversal as the Belles had trouble picking up a basket while the Thunder started a run of their own. Over the next five minutes of play, Trine used a surge of 17 points while holding Saint Mary's to just four to get within nine points of the Belles' lead at 57-48 with 3:05 to go. Neither team, however, made another shot from the floor and Ronan drained a pair of free throws with 44 seconds left to put Saint Mary's up by the 59-48 final score.

On the night, the Belles made ten more shots from the floor and out-rebounded the Thunder by a 45-25 margin en route to the win. In the second half alone, Trine had just 11 rebounds total while the Belles had 11 rebounds on both the offensive and defensive glass.

Maggie Ronan had a team-high 18 points to pace the Saint Mary's offense. Kelley Murphy just missed out on a double-double as she scored nine points and pulled down a season-best 15 rebounds. With the 15 boards, Murphy becomes just the second player in program history to score more than 1,000 points and tally over 700 career rebounds. Jessica Centa also added nine points, grabbed nine offensive rebounds, and matched her career-high with three assists.

The Belles (9-10, 5-5 MIAA) will be back at home on Saturday when they host #17 Hope in a 3:00 p.m. MIAA tilt.