Belles Defeated by Brits
Box Score

ALBION, Mich. - Host Albion opened the game with a 15-2 run on their way to a 73-58 decision over the Saint Mary's basketball team on Saturday.

The two teams both had trouble finding success from the floor early in the game. The Belles did not hit a shot from the floor until Emily Page made a layup at the 10:53 mark in the first half, but Saint Mary's only trailed 15-4 as Albion had similar woes shooting. Back-to-back buckets by Shanlynn Bias pulled Saint Mary's within 15-8 of Albion with 9:36 on the clock, but a layup by the Brits extended the lead back to nine points.

Sarah Macius made both ends of a one-and-one trip to the free throw line to make the game a 17-10 contest, but Albion responded with six consecutive points to go up 23-10 seven-and-a-half minutes before the break. The Brits extended that lead to 19 in the final two minutes of the first period before taking the 43-27 lead at the half.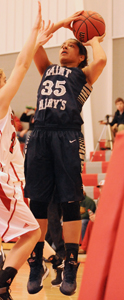 Shanlynn Bias led the
Belles with 15 points
at Albion.Albion led 71-45 with 6:28 left in the game when the Belles made a big push to try to get back into the game. Eleven straight points by Saint Mary's got the Belles within 15 points as Macius, Eleni Shea, Shanlynn Bias, and Kayla Wolter all scored points, but Saint Mary's was unable to get any closer than that 15-point margin down the stretch.

After connecting on only 25 percent (8-of-32) of their shots from the floor in the first half, Saint Mary's found more success in the second 20 minutes of play by hitting 13-of-27 shots (48.1 percent) while outscoring Albion 31-30 in the half.

Shanlynn Bias led the Belles with 15 points. Kayla Wolter had 11 points and a career-best seven assists. Krista Knapke added nine points and a game-high 10 rebounds for the Belles.

Saint Mary's returns home to host Calvin on Wednesday, February 6, at 7:30 p.m.