Bias Garners All-MIAA Second Team Honor
ROYAL OAK, Mich. - Saint Mary's junior guard Shanlynn Bias was one of only 12 Michigan Intercollegiate Athletic Association women's basketball players to earn All-MIAA honors as voted on by league coaches on Monday.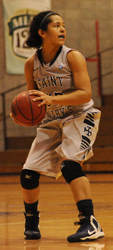 Junior Shanlynn Bias
was selected to the
All-MIAA Second Team.In conference play alone, Bias finished the season fourth in scoring among all MIAA players with 224 points in 16 league games to average 14.0 points per conference contest. She was also third in free throw percentage after hitting 61-of-75 attempts (81.3 percent).
The junior guard led all conference players in steals with 40 (2.5 steals/game) and minutes played with 547 (34.19 minutes/game).
The All-MIAA Second Team honor is the first of her career.
It is the 13th consecutive year that at least one member of the Saint Mary's basketball team has earned either All-MIAA First or Second Team honors.
2012-13 All-MIAA Team:
Most Valuable Player: Carissa Verkaik, Calvin
Defensive Player of the Year: Liz Ellis, Hope
All-MIAA First Team
Kelsey Campbell, Olivet* (junior from Olivet/Olivet HS)
Liz Ellis, Hope** (senior from Grand Rapids/East Grand Rapids HS)
Kayla Engelhard, Calvin* (sophomore from Unionville/Saginaw Valley Lutheran HS)
Courtney Kust, Hope** (senior from Cincinnati, Ohio/Cincinnati Hills Christian HS)
Sydney Spragg, Trine* (senior from Reading/Reading HS)
Carissa Verkaik, Calvin**** (senior from Holland/Holland Christian HS)
All-MIAA Second Team
Brittany Berry, Hope (sophomore from Grand Rapids/GR Catholic Central HS)
Shanlynn Bias, Saint Mary's (junior from Griffith, Ind./Griffith HS)
Brett deBear, Albion (junior from Plymouth/Salem HS)
Julia Hilbrands, Calvin (senior from Grand Rapids/GR Christian HS)
Megan Loveberry, Trine (senior from Quincy/Quincy HS)
Sydney Radde, Olivet (senior from Stevensville/Lakeshore HS)
* - Number of years All-MIAA First Team